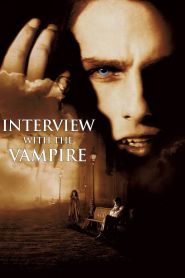 General Information
Glossary: I
Released Year: 1994
Runtime: 123 minutes
Genre: Horror, Romance
Directors: Neil Jordan
Casts: Antonio Banderas, Andrew Tiernan, Tom Cruise, Christian Slater, George Kelly, Brad Pitt, Indra Ové, Thandie Newton, Stephen Rea, Helen McCrory, Kirsten Dunst, Sara Stockbridge, Domiziana Giordano, Laure Marsac, Bellina Logan, Simon Tyrrell
IMDB: Interview with the Vampire: The Vampire Chronicles (1994)
Sponsored Links
Ratings
User Rating:
IMDB Rating:
7.6
Reviews
Empire

-

Bold, gruesome and melancholic, this Gothic horrorfest offers us much to sink our teeth into: Cruise - who effectively disappears from the screen for half the film's duration - is terrific, Dunst eerily compelling, Banderas hypnotic.

The New York Times

-

His sumptuous film is as strange and mesmerizing as it is imaginatively ghastly. It's a sophisticated, spookily intense rendering of Ms. Rice's story.

Chicago Reader

-

But if you can get swept up in the story, the movie is imaginative and compelling.

Chicago Sun-Times

-

A stronger plot engine might have drawn us more quickly to the end, but on a scene by scene basis, Interview with the Vampire is a skillful exercise in macabre imagination.

ReelViews

-

When Interview with the Vampire works, it's as compelling and engrossing a piece of entertainment as is available on film today. When it falters, the weaknesses seem magnified.
Interview with the Vampire: The Vampire Chronicles (1994)
A vampire relates his epic life story of love, betrayal, loneliness, and dark hunger to an over-curious reporter.