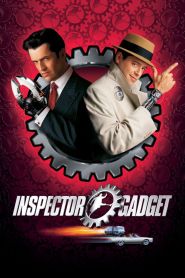 General Information
Glossary: I
Released Year: 1999
Runtime: 78 minutes
Genre: Action, Adventure, Comedy, Family, Sci-Fi
Directors: David Kellogg
Casts: Matthew Broderick, Cheri Oteri, Andy Dick, Rupert Everett, Michelle Trachtenberg, Bobby Bell, Karin Silvestri, Mike Hagerty, D. L. Hughley, Richard Kiel, Rene Auberjonois, Frances Bay, Mr. T, Dabney Coleman, Joely Fisher, Richard Lee-Sung
IMDB: Inspector Gadget (1999) - IMDB
Sponsored Links
Ratings
User Rating:
IMDB Rating:
4.1
Reviews
The Globe and Mail (Toronto)

-

Inspector Gadget may be a live-action movie, but at its heart it's more cartoonish than most cartoons.

TV Guide Magazine

-

What a joyless, fussy contraption of a movie!

Chicago Sun-Times

-

The plot was an arbitrary concoction.

Los Angeles Times

-

Gadget instead ends up as another mindless, noisy thrill ride that gorges its audience on bright effects and leaves it queasy from overconsumption.

The New York Times

-

In the end the elaborate gimmickry of Inspector Gadget cannot conceal its very ordinary storytelling.
Inspector Gadget (1999)
John Brown is a bumbling but well-intentioned security guard who is badly injured in an explosion planned by an evil mastermind. He is taken to a laboratory, where Brenda, a leading robotics surgeon, replaces his damaged limbs with state-of-the-art gadgets and tools. Named "Inspector Gadget" by the press, John -- along with his niece, Penny, and her trusty dog, Brain -- uses his new powers to discover who was behind the explosion.