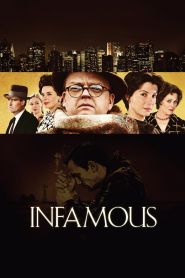 General Information
Glossary: I
Released Year: 2006
Runtime: 110 minutes
Genre: Drama
Directors: Douglas McGrath
Casts: Daniel Craig, Toby Jones, Gwyneth Paltrow, Sigourney Weaver, Hope Davis, Sandra Bullock, John Benjamin Hickey, Jeff Daniels, Michael Panes, Lee Pace, Isabella Rossellini, Juliet Stevenson, Peter Bogdanovich
IMDB: Infamous (2006)
Sponsored Links
Ratings
User Rating:
IMDB Rating:
7.0
Reviews
The Hollywood Reporter

-

Infamous gives you the unique opportunity to see how two sets of filmmakers can take exactly the same story, make extremely tough though different choices in emphasis and tone and achieve brilliant movies.

L.A. Weekly

-

Infamous is the better Capote film, yes, but also the less easily digestible one, the more eccentric one and -- yes -- the gayer one.

ReelViews

-

"Capote" is the more intellectual of the two films; Infamous is the more emotional. They exist to complement, not eclipse, one another.

The A.V. Club

-

Ultimately, the problem with Infamous isn't that it revisits Capote's turf--it's that it does the same things well, and leaves the same unsatisfying holes.

New York Magazine (Vulture)

-

Neither movie (Capote/Infamous) gives you the whole picture, but it's fun to see them both and rearrange the pieces in your head.
Infamous (2006)
While researching his book In Cold Blood, writer Truman Capote develops a close relationship with convicted murderers Dick Hickock and Perry Smith.