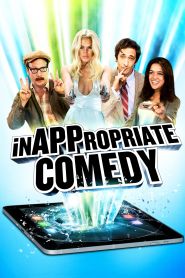 General Information
Glossary: I
Released Year: 2013
Runtime: 84 minutes
Genre: Comedy
Directors: Vince Offer
Writers: Ari Shaffir, Vince Offer, Ken Pringle
Casts: Adrien Brody, Michelle Rodriguez, Rob Schneider, Lindsay Lohan, Anna Akana, Ari Shaffir, Vince Offer
IMDB: InAPPropriate Comedy (2013)
Sponsored Links
Ratings
User Rating:
IMDB Rating:
2.9
Reviews
McClatchy-Tribune News Service

-

There's a phone app that could text a funnier script than this.

Washington Post

-

A more accurate title would be "Inept, Inadequate and Insipid Comedy."

The New York Times

-

Sometimes a movie is so awful that the word awful is not up to the task of conveying its awfulness. The awful InAPPropriate Comedy is such a movie. It is memorably awful. It is stunningly awful. It is so awful that we are fortunate that "awful" has an adverbial use that means "very" or "extremely." This movie is awfully awful.

New York Post

-

An inept, brutally unfunny collection of sketches.

The Hollywood Reporter

-

Offering nary a single funny moment in its seemingly endless 84 minutes, the film...provides evidence that cinematic sketch comedy is clearly a lost art. The inevitable outtakes seen during the end credits seem to indicate that the actors, at least, were having fun. Too bad none of it managed to find its way onto the screen.
InAPPropriate Comedy (2013)
A no-nonsense cop has a flair for fashion and a celebrity takes revenge on the paparazzi in a collection of comedic sketches.