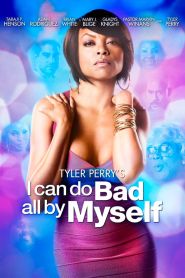 General Information
Glossary: I
Released Year: 2009
Runtime: 113 minutes
Genre: Comedy, Drama
Directors: Tyler Perry
Writers: Tyler Perry
Casts: Taraji P. Henson, Brian J. White, Mary J. Blige, Tyler Perry, Adam Rodríguez, Gladys Knight
IMDB: I Can Do Bad All by Myself (2009) - IMDB
Sponsored Links
Ratings
User Rating:
IMDB Rating:
4.3
Reviews
Entertainment Weekly

-

It's probably the impresario's best-made movie yet, his most joyful, and his most moving.

Boston Globe

-

It's the best Tyler Perry movie to date - the writer/director/actor/mogul's most confident and competent mixture of uplifting black middle-class melodrama and low-down comedy.

Philadelphia Inquirer

-

A double shot of Saturday-night lowdown chased by a cheery chug of Sunday-morning uplift.

Los Angeles Times

-

What works best, though, is that it's practically an R&B/gospel musical.

The A.V. Club

-

With Bad, Perry is savvy enough to let riveting musical numbers by ringers like Gladys Knight and Mary J. Blige--along with Henson's deeply empathetic performance--carry the film's feverish emotions more than his characteristically ham-fisted screenplay.
I Can Do Bad All by Myself (2009)
When Madea catches sixteen-year-old Jennifer and her two younger brothers looting her home, she decides to take matters into her own hands and delivers the young delinquents to the only relative they have: their aunt April. A heavy-drinking nightclub singer who lives off of Raymond, her married boyfriend, April wants nothing to do with the kids.