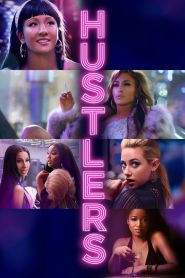 General Information
Glossary: H
Released Year: 2019
Runtime: 107 minutes
Genre: Comedy, Crime, Drama
Directors: Lorene Scafaria
Casts: Frank Whaley, Keke Palmer, Julia Stiles, Usher Raymond, Vanessa Aspillaga, Jennifer Lopez, Devin Ratray, Brandon Keener, Dov Davidoff, Constance Wu, Steven Boyer, Lili Reinhart, David Wenzel, Tia Barr, Mercedes Ruehl, Ching Hoh-Wai, Doris McCarthy, Madeline Brewer, Lizzo, Cardi B, Trace Lysette, G-Eazy, Mette Towley, Stormi Maya, Ken Holmes, Leonard Zimmerman, Molly Williams, Daymien Valentino, Nicholas Suech, Emma Batiz
IMDB: Hustlers (2019)
Sponsored Links
Ratings
User Rating:
IMDB Rating:
6.6
Reviews
Empire

-

A giddily entertaining homage to female power that illuminates bold ambition in its stars and director alike, Hustlers is the kind of era-defining film that Hollywood didn't know it needed.

IndieWire

-

For all its touchy subjects and ambiguous answers, "Hustlers" is never anything less than energetic, freight-train-fast, and impeccably plotted.

IGN

-

With a nuanced script, standout performances, and the adrenaline of a well-executed heist, Hustlers is an entertaining ride with something meaningful to say about power and control.

Los Angeles Times

-

As Ramona, a one-woman supernova who reigns over a New York strip club, Lopez gives her most electrifying screen performance since "Out of Sight," slipping the movie into her nonexistent pocket from the moment she strides out onto a neon-lighted stage in a rhinestone bodysuit.

The Playlist

-

What elevates Hustlers from an entertaining con job flick to something noteworthy is that the racket isn't inherent to the story Scafaria wants to tell. Many filmmakers will say their film tackles female empowerment, but few do the legwork to make an integral and authentic part of the story.
Hustlers (2019)
A crew of savvy former strip club employees band together to turn the tables on their Wall Street clients.