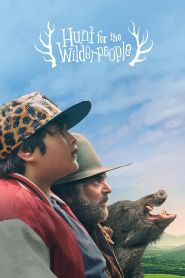 General Information
Glossary: H
Released Year: 2016
Runtime: 101 minutes
Genre: Adventure, Comedy, Drama
Directors: Taika Waititi
Casts: Taika Waititi, Sam Neill, Rhys Darby, Rachel House, Mike Minogue, Cohen Holloway, Julian Dennison, Stan Walker, Oscar Kightley, Rima Te Wiata, Tioreore Ngatai-Melbourne, Troy Kingi, Hamish Parkinson, Lloyd Scott, Selena Wolfe, Mabelle Dennison, Sonia Spyve, Timothy Herbert, Stu Giles, Selina Woulfe, Tuss, Finn
IMDB: Hunt for the Wilderpeople (2016) - IMDB
Sponsored Links
Ratings
User Rating:
IMDB Rating:
7.9
Reviews
Screen International

-

Warmly funny and deeply delightful, Hunt For The Wilderpeople is a tale of two misfits told with such generosity of spirit and consistent good humour that it's a pleasant surprise to discover how sneakily touching it is as well.

New York Daily News

-

The best thing the director has going for this one is the talented young actor playing Ricky Baker, as he constantly tries to emulate his tough "gangsta" heroes like Tupac Shakur. (He even names his dog "Tupac.")

Consequence of Sound

-

Filmmaking this fresh, this vibrant, and this affecting for all ages is rare these days.

The Hollywood Reporter

-

[Waititi's] nimble adaptation here combines solid writing with an entire bag of filmmaking tricks that includes visual gags, unexpected cuts and quick montage sequences to score laughs from the get-go. He also cleverly exploits who these people are to get the audience in stitches.

The Film Stage

-

Throughout his films, Waititi has always been skilled at melding comedy with trauma and crafting screenplays with crowdpleasing callbacks. Hunt for the Wilderpeople is another such example of amiable, kind-hearted storytelling.
Hunt for the Wilderpeople (2016)
Ricky is a defiant young city kid who finds himself on the run with his cantankerous foster uncle in the wild New Zealand bush. A national manhunt ensues, and the two are forced to put aside their differences and work together to survive.