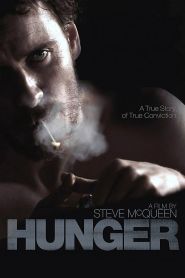 General Information
Glossary: H
Released Year: 2008
Runtime: 96 minutes
Genre: Biography, Drama
Directors: Steve McQueen
Writers: Steve McQueen, Enda Walsh
Casts: Michael Fassbender, Liam Cunningham, Stuart Graham, Liam McMahon, Lalor Roddy, Helena Bereen, Laine Megaw, Brian Milligan, Karen Hassan, Frank McCusker, Helen Madden, Paddy Jenkins
IMDB: Hunger (2008)
Sponsored Links
Ratings
User Rating:
IMDB Rating:
7.6
Reviews
Village Voice

-

A superbly balanced piece of work, addressing the passion of Irish Republican martyr Bobby Sands.

New York Magazine (Vulture)

-

The movie is a political remake of "The Passion of the Christ," only more aestheticized: It's rigorous, evocative, and, in spite of its grisly imagery, elegant. It's a triumph--of masochistic literal-mindedness.

The A.V. Club

-

Hunger may be criticized for being willfully arty, or for reducing a complex political situation to a broadly allegorical vision of martyrdom, but it's never less than visually stunning.

Film Threat

-

While Hunger is a very brutal film, it also taps into human emotions and, in the end, asks what would we be willing to die for or, better, what could we truly not live without?

Chicago Reader

-

The fulcrum of this deeply humanist work is an extended two-shot of the strike's leader, Bobby Sands (Michael Fassbender), as he converses with a priest (Liam Cunningham); the virtuosic sequence encapsulates the whole sorry history of a horrific civil war.
Hunger (2008)
The story of Bobby Sands, the IRA member who led the 1981 hunger strike in which Republican prisoners tried to win political status. It dramatises events in the Maze prison in the six weeks prior to Sands' death.