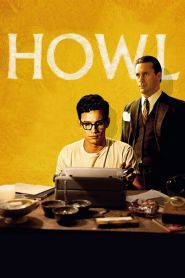 General Information
Glossary: H
Released Year: 2010
Runtime: 84 minutes
Genre: Drama
Directors: Rob Epstein, Jeffrey Friedman
Writers: Rob Epstein, Jeffrey Friedman
Casts: James Franco, Jon Hamm, David Strathairn, Treat Williams, Alessandro Nivola, Jeff Daniels, Cecilia Foss, Mary-Louise Parker, Bob Balaban, Sean Patrick Reilly, Aaron Tveit, Allen Ginsberg, Jon Prescott, Todd Rotondi, Alex Emanuel
IMDB: Howl (2010)
Sponsored Links
Ratings
User Rating:
IMDB Rating:
6.7
Reviews
The New York Times

-

Not quite a biopic, not really a documentary and only loosely an adaptation, Howl does something that sounds simple until you consider how rarely it occurs in films of any kind. It takes a familiar, celebrated piece of writing and makes it come alive.

The A.V. Club

-

The trouble with the film is that it often feels too respectable for its own good, preserving the facts of yesterday's rebellion while leaving it firmly in the past. Happily, Ginsberg's words still cut recklessly through the years.

NPR

-

Epstein and Friedman's doc-like approach also results in a certain dramatic stasis; Howl is a film aimed more for the head than the gut.

Movieline

-

The result is more fancy than funky, but the directors' aim is true and occasionally hits its mark.

The Hollywood Reporter

-

What's cinematic experimentation without a few failures in the lab? Maybe that's why Howl is so appealing: The filmmakers don't get everything right but their passion for Ginsberg's genius and their excitement over trying to deconstruction a literary master work is contagious.
Howl (2010)
It's San Francisco in 1957, and an American masterpiece is put on trial. Howl, the film, recounts this dark moment using three interwoven threads: the tumultuous life events that led a young Allen Ginsberg to find his true voice as an artist, society's reaction (the obscenity trial), and mind-expanding animation that echoes the startling originality of the poem itself. All three coalesce in a genre-bending hybrid that brilliantly captures a pivotal moment-the birth of a counterculture.