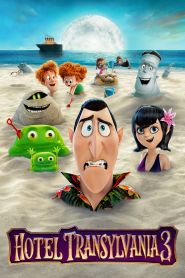 General Information
Glossary: H
Released Year: 2018
Runtime: 97 minutes
Genre: Animation, Comedy, Family, Fantasy
Directors: Genndy Tartakovsky
Writers: Michael McCullers, Genndy Tartakovsky
Casts: Molly Shannon, Kathryn Hahn, Adam Sandler, David Spade, Sadie Sandler, Fred Tatasciore, Steve Buscemi, Keegan-Michael Key, Michelle Murdocca, Kari Wahlgren, Joyce Arrastia, Kevin James, Andy Samberg, Jim Gaffigan, Chris Parnell, Craig Kellman, Selena Gomez, Joe Whyte, Joe Jonas, Genndy Tartakovsky, Mel Brooks, Tara Strong, Sunny Sandler, Fran Drescher, Aaron LaPlante, Asher Blinkoff, Jaime Camil, Chrissy Teigen, Alison Hammond, Libby Thomas Dickey, Patrick Harpin
IMDB: Hotel Transylvania 3: Summer Vacation (2018)
Sponsored Links
Ratings
User Rating:
IMDB Rating:
6.3
Reviews
IndieWire

-

With plenty of laughs, truly dazzling animation, and some more of the franchise's signature dance sequences, Hotel Transylvania 3: Summer Vacation is a summer treat worth savoring, and a reminder that if we can see past our differences, we'll find we're not that different after all.

TheWrap

-

Hotel Transylvania 3 always goes for the joke and rarely misses.

The A.V. Club

-

It's pleasantly baffling to discover that not only is Hotel Transylvania 3 easily the best film of the series, but it also feels more at home thematically on a cruise ship than its predecessors did at a haunted Transylvanian castle.

ScreenCrush

-

The're not a lot of momentum to Hotel Transylvania 3; this is a children's film after all. But the character and location designs are inventive and appealing, and there are several memorable set pieces, including a wordless scuba diving sequence that draws heavy inspiration from classic Warner Bros. cartoons.

Village Voice

-

For all its frantic eager-to-please-ness, Hotel Transylvania 3 doesn't quite achieve the blissfully reliable drumbeat of hilarious throwaway gags that the earlier films managed.
Hotel Transylvania 3: Summer Vacation (2018)
Dracula, Mavis, Johnny and the rest of the Drac Pack take a vacation on a luxury Monster Cruise Ship, where Dracula falls in love with the ship's captain, Ericka, who's secretly a descendant of Abraham Van Helsing, the notorious monster slayer.