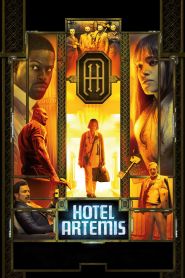 General Information
Glossary: H
Released Year: 2018
Runtime: 97 minutes
Genre: Action, Crime, Thriller
Directors: Drew Pearce
Casts: Charlie Day, Sterling K. Brown, Lloyd Sherr, Jeff Goldblum, Evan Jones, Kenneth Choi, Mark Kubr, Jodie Foster, Zachary Quinto, Jenny Slate, Tanner Gill, Dave Bautista, Kate Higgins, Baldeep Singh, Sofia Boutella, Brian Tyree Henry, Father John Misty, Nathan Davis Jr., Brandon Morales, Lee Coc, Ramses Jimenez, Angela Sprinkle, Bruce Concepcion, Sarah Shankman, Mason Shea Joyce, James Rackstraw, Matt Morgan
IMDB: Hotel Artemis (2018)
Sponsored Links
Ratings
User Rating:
IMDB Rating:
6.1
Reviews
Consequence of Sound

-

Drew Pearce's Hotel Artemis...falls victim to much of what ails any ensemble picture — rushed plotting, forced coincidence, indulgence — but still manages to make a big impression.

The A.V. Club

-

We've seen it all before in movies and video games, but the packaging is slick and hard to resist; any sci-fi crime movie with moody camerawork by Chung Chung-hoon, a Cliff Martinez score, a cast this strange, and an original end-credits ballad by Father John Misty (also a cast member) is begging to be watched, regardless of actual content or the messiness of the action scenes.

The New York Times

-

Mr. Pearce is also well-versed in staging and shooting decent action scenes, and building suspense enough to keep Hotel Artemis diverting in its overstuffed ambition. Add to that Ms. Foster's welcome return to big-screen acting after a five-year layoff and you've got a movie almost worth seeing.

The Guardian

-

For all of its faults, there's still plenty here to praise, the result of so much being thrown at the wall is that some of it will stick. Pearce has a sharp creative flair and a head full of ideas but he feels somewhat hemmed in by the constraints of a short running time and a high profile release date.

The Hollywood Reporter

-

The flavorful cast inhabit vividly drawn characters, and, perhaps most of all, the film exudes wall-to-wall, high-grunge atmosphere. That's a lot of checked-off boxes, and yet the effect is efficiently wild rather than wildly involving, entertaining but not indelible.
Hotel Artemis (2018)
Set in riot-torn, near-future Los Angeles, 'Hotel Artemis' follows the Nurse, who runs a secret, members-only emergency room for criminals.