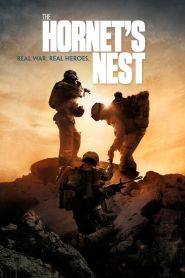 General Information
Glossary: T
Released Year: 2014
Runtime: 93 minutes
Genre: Action, Documentary, History, War
Directors: David Salzberg, Christian Tureaud
Casts: Carlos Boettcher, Mike Boettcher, Kalen M. Waite
IMDB: The Hornet's Nest (2014)
Sponsored Links
Ratings
User Rating:
IMDB Rating:
6.6
Reviews
Arizona Republic

-

The Hornet's Nest serves as a somewhat effective bonding exercise for father and son. But the best of what it has to offer moves beyond that, and puts us alongside the people fighting a daily battle and, sometimes, heartbreakingly, losing the fight.

Los Angeles Times

-

The Afghanistan war documentary The Hornet's Nest is a kinetic, immersive experience, particularly in its deeply felt human moments.

Variety

-

Tureaud and Salzberg achieve their potent impact through the straightforward (but clearly admiring) observation of men who band together in battle and, in the film's emotionally stirring final scenes, mourn their fallen comrades.

The New York Times

-

The Hornet's Nest lets its soldiers do most of the talking. The action — the rapid fire of automatic weapons, the crack of a sniper's shot, the medevac rescues — is vivid.

Village Voice

-

An important film despite some baffling presentational choices.
The Hornet's Nest (2014)
Armed only with their cameras, Peabody and Emmy Award-winning conflict Journalist Mike Boettcher, and his son, Carlos, provide unprecedented access into the longest war in U.S. history.