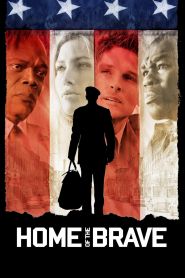 General Information
Glossary: H
Released Year: 2006
Runtime: 106 minutes
Genre: Action, Drama, War
Directors: Irwin Winkler
Casts: Jessica Biel, Samuel L. Jackson, Vyto Ruginis, Christina Ricci, 50 Cent, James MacDonald, Jack Serino, Victoria Rowell, Chad Michael Murray, Samuel Jones III, Brian Presley, Sandra Nelson, Jeffrey Nordling, Jared Wagner
IMDB: Home of the Brave (2006)
Sponsored Links
Ratings
User Rating:
IMDB Rating:
5.6
Reviews
Salon

-

Home of the Brave isn't exactly a subtle or a delicate picture -- it's an old-fashioned Hollywood movie, at least in tone, that's being released like an indie -- but it has some terrific acting and comes straight from the heart.

The Hollywood Reporter

-

Timeliness is all very well, but the significant subject matter cries out for a defter directorial touch and a deeper complexity in regard to the characters and performances.

Entertainment Weekly

-

Evenness of political keel, combined with a generic filmmaking style, is an artistic weapon way too puny for a successful assault on so tough, bruising, and crucial a subject.

ReelViews

-

Had Home of the Brave presented credible stories about believable characters, it might have been a powerful drama.

Christian Science Monitor

-

Home of the Brave is a milestone of sorts. But it's a formulaic, overacted piece of work that rarely delves deep.
Home of the Brave (2006)
The day after they get the word they'll go home in two weeks, a group of soldiers from Spokane are ambushed in an Iraqi city. Back stateside we follow four of them - a surgeon who saw too much, a teacher who's a single mom and who lost a hand in the ambush, an infantry man whose best friend died that day, and a soldier who keeps reliving the moment he killed a civilian woman.