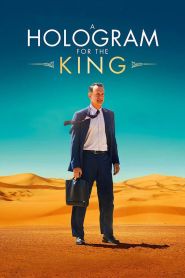 General Information
Glossary: A
Released Year: 2016
Runtime: 97 minutes
Genre: Comedy, Drama
Directors: Tom Tykwer
Casts: Tom Hanks, Tom Skerritt, Ben Whishaw, Sarita Choudhury, Khalid Laith, David Menkin, Tracey Fairaway, Sidse Babett Knudsen, Jon Donahue, Alexander Black, Jane Perry, Amira El Sayed, Christy Meyer
IMDB: A Hologram for the King (2016)
Sponsored Links
Ratings
User Rating:
IMDB Rating:
6.1
Reviews
Chicago Sun-Times

-

Writer-director Tom Tykwer is clearly a fan of the source material, and he has done an admirable job of taking a melancholy, beautifully rendered piece of prose and catapulting it to visual life.

Village Voice

-

Tykwer sublimates what Eggers made explicit: the joblessness, the debt, the isolation. He knows the power of an image, a gesture, a brief exchange, so he captures those social themes in flashes, which ironically gives them new power.

New York Daily News

-

Much like the technology in the title, "A Hologram for the King" flickers in and out of focus — sharp at times, but ultimately lacking resolution.

The Hollywood Reporter

-

When it isn't trying too hard to be instructive or jokey, Tykwer's film fluently conveys the hard truth of diminished relevance, geopolitical as well as personal. Hanks' portrayal of a man caught between utter defeat and a yearning to begin again is pitch-perfect.

Variety

-

A Hologram for the King arrives at its feel-good conclusion honestly enough, but its cultural engagement feels tentative, even secondhand: The movie conjures no shortage of potent images, but push a bit deeper and your fist closes on empty air.
A Hologram for the King (2016)
Alan Clay, a struggling American businessman, travels to Saudi Arabia to sell a new technology to the King, only to be challenged by endless Middle Eastern bureaucracy, a perpetually absent monarch, and a suspicious growth on his back.