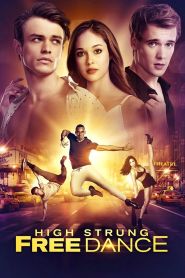 General Information
Glossary: H
Released Year: 2018
Runtime: 103 minutes
Genre: Drama, Music, Romance
Directors: Michael Damian
Writers: Michael Damian, Janeen Damian
Casts: Jane Seymour, Kika Markham, Breck Gallini, Ace Bhatti, Christopher Landry, Thomas Doherty, Joshua Sinclair-Evans, Harry Jarvis, Juliet Doherty, Nataly Santiago, Kerrynton Jones, Jorgen Makena, Giulia Nahmany, Manuel Pacific, Nigel Lythgoe, Daniel Achim, Dan Ursu, Desmond Richardson, Connor Gormley, Ali Tomineek, Dimitri Kleioris
IMDB: High Strung Free Dance (2018)
Sponsored Links
Ratings
User Rating:
IMDB Rating:
6.7
Reviews
TheWrap

-

Michael Damian's film has no nutritional value, but that's by design: It's a flaky dessert for the mind, and it's irresistibly decadent.

The Hollywood Reporter

-

Lacking the personalities and attitude that have led some other unassuming productions to commercial success, the film has little to boast about beyond some fine dance sequences — none of them more transporting than what can be found easily on small screens.

Los Angeles Times

-

This follow-up to 2016's "High Strung" has its visual dazzle and performance highs but the story and characters are just too fake, chaste and grit-free to take seriously.

Movie Nation

-

It's a formula dance movie that puts minimal effort into deviating from that formula. But every so often, "Free Dance" threatens to take flight.
High Strung Free Dance (2018)
Zander Raines, a dazzling and tempestuous young choreographer, gives the break of a lifetime to two hopeful artists when he casts a stunning contemporary dancer, Barlow, and innovative pianist, Charlie, in New York's most-anticipated new Broadway show: Free Dance. But the move throws off the show's delicate creative balance when Charlie falls hard for Barlow while Zander embraces her as his muse.