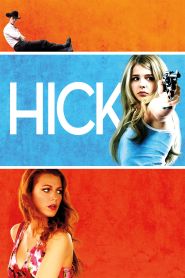 General Information
Glossary: H
Released Year: 2011
Runtime: 99 minutes
Genre: Comedy, Drama
Directors: Derick Martini
Writers: Derick Martini
Casts: Bob Stephenson, Shaun Sipos, Alec Baldwin, Blake Lively, Anson Mount, Chloë Grace Moretz, Juliette Lewis, Ray McKinnon, Eddie Redmayne, Tim Parati, Rory Culkin, Robert Baker, Troy Rudeseal, Leon Lamar, Dartanian Sloan, Dave Vescio, Beth Malone, Christopher Coakley, Kelsey Walston, Andrea Portes, Daisy De La Hoya, Trevor Duke-Moretz
IMDB: Hick (2011)
Sponsored Links
Ratings
User Rating:
IMDB Rating:
5.7
Reviews
Movieline

-

Walks the jittery line between being exploitative and too sensitive, and while it's probably a relief that it tips more toward the latter, the movie also seems a bit unclear in its motives.

ReelViews

-

One of the most positive comments that can be made about Hick is that it advances Chloe Grace Moretz's claim to be one of the best young actresses emerging into today's spotlight.

New York Magazine (Vulture)

-

For a movie that deals with rape, criminality, and even racks up a real body count, Hick is whisper-thin and instantly forgettable.

Chicago Sun-Times

-

I cringed.

The New York Times

-

Ms. Portes's script strains credulity, and it's not helped by Mr. Martini, who can't find the right tone.
Hick (2011)
A pistol-packing teen meets an unstable rebel and a cocaine-snorting drifter as she hitchhikes her way out West.