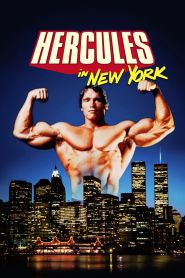 General Information
Glossary: H
Released Year: 1970
Runtime: 91 minutes
Genre: Action, Adventure, Comedy, Fantasy, Sci-Fi
Directors: Arthur Allan Seidelman
Casts: Arnold Schwarzenegger, James Karen, Merwin Goldsmith, Arnold Stang, Richard Herd, Rudy Bond, Deborah Loomis, Taina Elg, Ernest Graves, Tanny McDonald
IMDB: Hercules in New York (1970)
Sponsored Links
Ratings
User Rating:
IMDB Rating:
3.3
Reviews
USA Today

-

This unearthed cheapie and fast-forwarder's delight is redeemed by the dubbed- in cathedral tones (they're vintage gladiator pic) coming from our hero's larnyx. [20 Dec 1991, p.3D]

TV Guide Magazine

-

For some reason, producer Wisberg decided to revive the long dead Hercules craze, and luckily it didn't take.

Boston Globe

-

When you become a megastar like Arnold Schwarzenegger, you must expect your past to jump up and bite you - especially if you've made a stinker like this one. A great rental for frat parties, this Manhattan melodrama features Zeus sending Arnold, as Hercules, to present-day New York. [06 Dec 1991, p.62]

Washington Post

-

It's a comedy to be laughed at rather than with, largely because the producers decided to dub Arnold's Teutonic voice with that of another actor, one who sounds like he's giving bus departure announcements at the Port Authority Terminal. [30 Jan 1992, p.C7]
Hercules in New York (1970)
Hercules (Schwarzenegger) is sent to Earth where he finds true love and starts a promising career in the bodybuilder business.