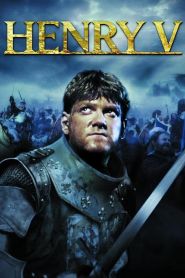 General Information
Glossary: H
Released Year: 1989
Runtime: 137 minutes
Genre: Drama, History, War
Directors: Kenneth Branagh
Casts: John Sessions, Michael Maloney, Derek Jacobi, Ian Holm, Christian Bale, Emma Thompson, Kenneth Branagh, Danny Webb, Judi Dench, Robbie Coltrane, Richard Clifford, David Parfitt, Alec McCowen, Charles Kay, Jimmy Yuill, Brian Blessed, Jay Villiers, Paul Scofield, James Simmons, Geraldine McEwan, Richard Briers, Simon Shepherd, Shaun Prendergast, James Larkin, Fabian Cartwright, Stephen Simms, Michael Williams, Paul Gregory, Edward Jewesbury, Christopher Ravenscroft
IMDB: Henry V (1989)
Sponsored Links
Ratings
User Rating:
IMDB Rating:
7.6
Reviews
TV Guide Magazine

-

Straightforward, energetic, updated Bard. 28-year-old star-director-adapter Kenneth Branagh's spellbinding version of Shakespeare's Henry isn't superior to Olivier's 1944 version - it's different, and complementary to it.

Time

-

Big and pretty, vigorous, thoughtful, this Hamlet expands the story with helpful flashbacks.

Washington Post

-

Most astounding, though, is the power of the film's leading actor. While Branagh's direction is forthright and articulate, his acting is brash and flamboyant.

Chicago Sun-Times

-

What works best in the film is the over-all vision. Branagh is able to see himself as a king, and so we can see him as one.

Boston Globe

-

One of the things that make [Branagh's] Henry V so thrilling is his audacity in trying to turn it into an antiwar play - a view that would have astounded Shakespeare. Astonishingly, he pretty much brings it off, emerging with steadily growing power as the young king who isn't afraid to bloody his hands. [15 Dec 1989]
Henry V (1989)
Gritty adaption of William Shakespeare's play about the English King's bloody conquest of France.