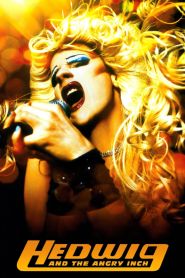 General Information
Glossary: H
Released Year: 2001
Runtime: 95 minutes
Genre: Comedy, Drama, Music, Musical
Directors: John Cameron Mitchell
Casts: Gene Pyrz, Stephen Trask, Andrea Martin, Michael Pitt, Rob Campbell, John Cameron Mitchell, Alberta Watson, Miriam Shor, Michael Aronov, Maurice Dean Wint, Ben Mayer-Goodman, Theodore Liscinski, Sook-Yin Lee
IMDB: Hedwig and the Angry Inch (2001)
Sponsored Links
Ratings
User Rating:
IMDB Rating:
7.8
Reviews
Salon

-

The sight of Hedwig and his band transforming a trashy trailer into a glitter-rock stage during "Wig in a Box" was so exhilarating I almost leapt out of my seat. The movie is pure theater, as it should be.

Portland Oregonian

-

Builds into a moment of such gorgeous rocking that you truly lose yourself in some musical otherworld you never dreamed you'd reach in current films.

Rolling Stone

-

Mitchell gives this post-punk, neo-glam rock extravaganza everything in his loaded arsenal of talents. He gets the sound right, the look right, the fun right and - this is crucial - the pain right.

Boston Globe

-

If you thought ''Moulin Rouge,'' or, for that matter, ''Tommy,'' was trippy, Hedwig, with its glorious convergence of material and performer, will show you what you've been missing.

Baltimore Sun

-

This is Mitchell's show, and his performance lives up to his triple billing as writer, director and star.
Hedwig and the Angry Inch (2001)
Hansel Schmidt, is a young East German boy, born and raised during the Cold War in communist East Berlin. In his 20s, he meets Luther Robinson, an older American soldier, who falls in love with Hansel and the two decide to marry, which will allow Hansel to leave communist East Germany for the West. But, in order to marry, Hansel must undergo a sex-change. However, the procedure does not go perfectly and Hansel becomes not a trans woman, but a 'genderqueer', Hedwig. Back in the USA, on their first wedding anniversary, Luther leaves Hedwig for another man. On that same day the news headlines were of the fall of the Berlin Wall and freedom. Hedwig tours the US with her rock band and relates her life story while following her ex-boyfriend/band-mate Tommy Speck (to whom she gives the stage name "Tommy Gnosis"), who stole her songs and rose to fame.