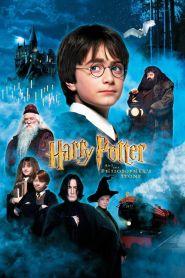 General Information
Glossary: H
Released Year: 2001
Runtime: 152 minutes
Genre: Adventure, Family, Fantasy
Directors: Chris Columbus
Casts: Daniel Radcliffe, Verne Troyer, Richard Harris, John Hurt, John Cleese, Richard Griffiths, Tom Felton, Nina Young, Alan Rickman, Rupert Grint, Emma Watson, Robbie Coltrane, Maggie Smith, Ian Hart, Fiona Shaw, David Bradley, Matthew Lewis, Sean Biggerstaff, Warwick Davis, Harry Melling, James Phelps, Oliver Phelps, Chris Rankin, Alfie Enoch, Devon Murray, Jamie Waylett, Josh Herdman, Zoë Wanamaker, Julie Walters, Bonnie Wright, Luke Youngblood, Adrian Rawlins, Geraldine Somerville, Elizabeth Spriggs, Terence Bayler, Leslie Phillips, Simon Fisher-Becker, Derek Deadman, Ray Fearon, Eleanor Columbus, Ben Borowiecki, Danielle Tabor, Leilah Sutherland, Emily Dale, Will Theakston, Scot Fearn, Saunders Triplets, Amy Puglia, David Brett, Leila Hoffman, Hazel Showham, Christina Petrou, Gemma Sandzer, Zoe Sugg, Jimmy Vee, Kieri Kennedy
IMDB: Harry Potter and the Sorcerer's Stone (2001)
Sponsored Links
Ratings
User Rating:
IMDB Rating:
7.6
Reviews
Seattle Post-Intelligencer

-

It's eye-filling, well-cast, often very funny and executed with great imagination and flair.

New York Daily News

-

If the movie doesn't ultimately transport us to places The Wizard of Oz once took us, that may be partly because "The Sorcerer's Stone" is just the first chapter, with more magic waiting to be parceled out in the coming years.

Washington Post

-

Retains (and in many cases, boosts) as much of the spirit [of the book] as you could reasonably expect. And it makes a worthy attempt to duplicate Rowling's engaging sense of humor.

Entertainment Weekly

-

That sense of déjà vu is at once this Harry Potter's balm and its limitation: many charms, but few surprises.

Chicago Tribune

-

Does it immerse the uninitiated into a new, fabulous world? Yes. To the book's many readers, does this feel like the real "Harry Potter"? For the most part, yes.
Harry Potter and the Sorcerer's Stone (2001)
Harry Potter has lived under the stairs at his aunt and uncle's house his whole life. But on his 11th birthday, he learns he's a powerful wizard -- with a place waiting for him at the Hogwarts School of Witchcraft and Wizardry. As he learns to harness his newfound powers with the help of the school's kindly headmaster, Harry uncovers the truth about his parents' deaths -- and about the villain who's to blame.