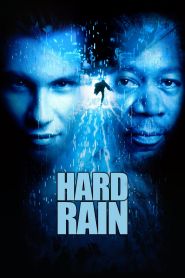 General Information
Glossary: H
Released Year: 1998
Runtime: 97 minutes
Genre: Crime, Thriller
Directors: Mikael Salomon
Casts: Christian Slater, Morgan Freeman, Mark Rolston, Betty White, Ed Asner, Randy Quaid, Ricky Harris, Wayne Duvall, Ray Baker, Richard Dysart, Michael Monks, Minnie Driver, Jay Patterson, Peter Murnik, Michael A. Goorjian, Dann Florek, Mackenzie Bryce, Lisa Fuhrman
IMDB: Hard Rain (1998)
Sponsored Links
Ratings
User Rating:
IMDB Rating:
5.9
Reviews
San Francisco Examiner

-

It's fast-moving, it's got fine special effects, the hero and heroine are pure and quick-thinking, the bad people die badly, and the script draws its fair share of laughs.

Empire

-

A rollicking cat-and-mouse thriller in bad weather. And no dog.

The Globe and Mail (Toronto)

-

The characters don't stay still long enough for the audience to worry about them. The high-priced actors (Freeman is especially wasted) are so much flotsam in the big water-tank action scenes.

The New York Times

-

A well-cast disaster movie more notable for special effects and stunts than for credible drama.

San Francisco Chronicle

-

A stupid movie -- but a deliriously stupid movie, which gives it a certain grandeur.
Hard Rain (1998)
Get swept up in the action as an armored car driver (Christian Slater) tries to elude a gang of thieves (led by Morgan Freeman) while a flood ravages the countryside. Hard Rain is "a wild, thrilling, chilling action ride" filled with close calls, uncertain loyalties and heart-stopping heroics.