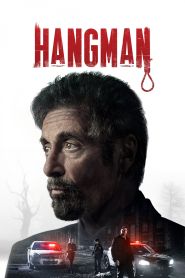 General Information
Glossary: H
Released Year: 2017
Runtime: 98 minutes
Genre: Crime, Mystery, Thriller
Directors: Johnny Martin
Writers: Charles Huttinger, Michael Caissie
Casts: Al Pacino, Sarah Shahi, Karl Urban, Joe Anderson, Michael Rose, Brittany Snow, Steve Coulter, Scott Parks, Matt Mercurio, Sloane Warren, Dwayne Boyd, Chelle Ramos, Jermaine Rivers, Katelyn Farrugia, Edgar Zanabria, Garrick Parks
IMDB: Hangman (2017) - IMDB
Sponsored Links
Ratings
User Rating:
IMDB Rating:
5.2
Reviews
Chicago Sun-Times

-

In its own cheesy and entertaining way, Hangman kept me guessing throughout

The Hollywood Reporter

-

Despite his extensive action movie experience, director Johnny Martin (Vengeance: A Love Story) fails to invest the violence with much suspense. He also doesn't elicit the best work from his performers, with Urban and Snow unable to overcome their characters' stereotypical aspects.

Los Angeles Times

-

With a dirge-like pace that provides ample opportunity to figure it all out well ahead of the protagonists, you keep wishing somebody would buy a vowel to hurry things along.

The New York Times

-

Hangman is riddled with holes — blank spaces, if you will.

Village Voice

-

Even with all its grisly, gory absurdity, Hangman actually tries to be a sincere salute to all the badge-wearing men and women who risk their lives on the regular to catch bad guys. But you may not take a single frame of this movie seriously.
Hangman (2017)
A homicide detective teams up with a criminal profiler to catch a serial killer whose crimes are inspired by the children's game, Hangman.