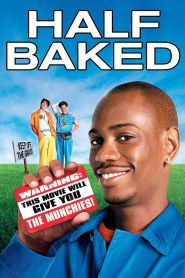 General Information
Glossary: H
Released Year: 1998
Runtime: 82 minutes
Genre: Comedy, Crime
Directors: Tamra Davis
Casts: Janeane Garofalo, Jon Stewart, Guillermo Díaz, Dave Chappelle, Harland Williams, Jim Breuer, Rachel True, Clarence Williams III, Laura Silverman, David Mucci, Tommy Chong, Snoop Dogg, Angelica Lisk-Hann
IMDB: Half Baked (1998)
Sponsored Links
Ratings
User Rating:
IMDB Rating:
6.7
Reviews
Chicago Reader

-

I kind of liked this slow, stoner comedy.

New York Daily News

-

Reefer mildness.

Entertainment Weekly

-

Sitting on your couch watching these morons sit on their couch and get wasted is like being the only straight guest at a pot party. Everyone else is laughing, and you're left wondering why.

San Francisco Chronicle

-

But their comic talents are completely wasted by an inane script whose idea of humor is to make jokes about lung cancer and the notorious Tuskegee experiment on black men with syphilis. [20 Jan 1998]

Austin Chronicle

-

The humor in this movie is basically anthropological notes on doper culture and behavior: junk-food frenzies, smoking rituals and hardware, non sequitur conversation, and short-term memory loss. In other words, stuff that passed into the realm of cliché back in the time of the Johnson administration.
Half Baked (1998)
Three lovable party buds try to bail their friend out of jail. But just when the guys have mastered a plan, everything comes dangerously close to going up in smoke.