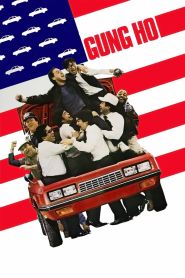 General Information
Glossary: G
Released Year: 1986
Runtime: 111 minutes
Genre: Comedy, Drama
Directors: Ron Howard
Casts: Rick Overton, Clint Howard, Rance Howard, Mimi Rogers, Joseph Pilato, John Turturro, Michael Keaton, Tak Kubota, Martin Ferrero, John W. Iwanonkiw, Sab Shimono, Kim Chan, Linda Carola, James Ritz, Gedde Watanabe, Jerry Tondo, Tommy Lafitte, Frank Seals Jr., Bill Dalzell, Rodney Kageyama, Jean Speegle Howard, George Wendt, Jihmi Kennedy, Sô Yamamura, Michelle Johnson, Patti Yasutake, Stan Egi, Dennis Sakamoto, Dock P. Ellis Jr., Richard M. McNally, Thomas Ikeda, Mariye Inouye, Tamie Saiki, Nann Mogg, Paul C. Nolan, R. Scott Peck, William S. Bartman, Jim S. Cash, Maria Barney, Robert Hammond, Lynette Jenkins, Daniel Krell, Fred Lehman, Wil Masisak, Joe Shelby, Ryonosuke Shiono, Jaime Vermeulen
IMDB: Gung Ho (1986)
Sponsored Links
Ratings
User Rating:
IMDB Rating:
6.2
Reviews
Chicago Tribune

-

The film would be funnier and more provocative if it took a stronger stand on one side or the other, but Howard chooses to hedge his bets, selecting an ending that celebrates brotherhood more than the strongly hinted- at notion that American workers would do well to get off their featherbedding backs.

Variety

-

Drawn from real life, the conflict between cultures is good for both a laugh and a sober thought along the way.

Los Angeles Times

-

Gung Ho goes after that ever-so-elusive Capra-esque spirit of communal triumph over adversity, but both sides too often verge on stereotypes for this to pay off as richly as it should.

Chicago Sun-Times

-

I think the fault is in the screenplay, which tells a story that can be predicted almost from the opening frames. The people who wrote this movie did not bother, or dare, to give us truly individual Japanese characters; there is only one who is developed with any care.

Washington Post

-

Howard entices us into overlooking the film's faults with some genuinely amusing scenes, particularly those featuring Japanese-American Gedde Watanabe as a beleaguered Assan executive who doesn't fit the corporate mold. [14 Mar 1986, p.27]
Gung Ho (1986)
When a western Pennsylvania auto plant is acquired by a Japanese company, brokering auto worker Hunt Stevenson faces the tricky challenge of mediating the assimilation of two clashing corporate cultures. At one end is the Japanese plant manager and the sycophant who is angling for his position. At the other, a number of disgruntled long-time union members struggle with the new exigencies of Japanese quality control.