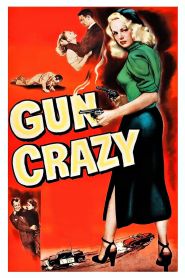 General Information
Glossary: G
Released Year: 1950
Runtime: 86 minutes
Genre: Crime, Drama, Thriller
Directors: Joseph H. Lewis
Casts: Russ Tamblyn, Trevor Bardette, Berry Kroeger, Anne O'Neal, Anabel Shaw, Peggy Cummins, John Dall, Morris Carnovsky, Harry Lewis, Nedrick Young, Mickey Little, Paul Frison, David Bair, Stanley Prager, Virginia Farmer
IMDB: Gun Crazy (1950)
Sponsored Links
Ratings
User Rating:
IMDB Rating:
7.6
Reviews
The Guardian

-

It's a superbly crafted film by a cult film-maker and features a virtuoso bank robbery sequence shot in a single take from a camera in the back seat of a car.

The New Yorker

-

It's a strikingly modern, complex, disturbing, and yet sad, touching, and romantic film.

Chicago Reader

-

Lewis's long takes and sure command of film noir staples (shadows, fog, rain-soaked streets) make this a stunning technical achievement, but it's something more--a gangster film that explores the limits of the form with feeling and responsibility.

The A.V. Club

-

Joseph H. Lewis' kinetic, psychosexual B-movie laid many of the creative foundations of the American cinema of the 1970s, though it took a round trip to Europe for the movie to develop a reputation at home.

IndieWire

-

It's a B-film with a heart of gold, even if that heart was probably stolen.
Gun Crazy (1950)
Bart Tare is an ex-Army man who has a lifelong fixation with guns, he meets a kindred spirit in sharpshooter Annie Starr and goes to work at a carnival. After upsetting the carnival owner who lusts after Starr, they both get fired. Soon, on Starr's behest, they embark on a crime spree for cash. Subjects of a manhunt, they are tracked by police in the hills Tare enjoyed as a boy.