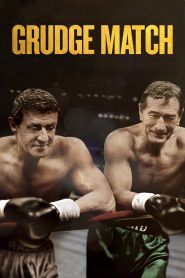 General Information
Glossary: G
Released Year: 2013
Runtime: 113 minutes
Genre: Comedy, Sport
Directors: Peter Segal
Casts: Kim Basinger, Judd Lormand, Robert De Niro, Sylvester Stallone, Alan Arkin, Jon Bernthal, Kevin Hart, Carrie Lazar, LL Cool J, Rowan Joseph, Griff Furst, John L. Armijo, Han Soto, Nicole Andrews, Todd Truley, Don Lake, Camden Gray
IMDB: Grudge Match (2013) - IMDB
Sponsored Links
Ratings
User Rating:
IMDB Rating:
6.4
Reviews
The A.V. Club

-

A pleasant, albeit very minor, surprise: a movie that never quite rises above its clichés, but which nonetheless tries to invest them with emotional credibility.

Slant Magazine

-

It will come as a surprise to none that Grudge Match is so wantonly clichéd that to watch it is to explore the outer perimeters of one's own tolerance for a specific type of feel-good sports film.

The Playlist

-

While it's an occasionally funny film with good performances from its stars, it's poorly and cheaply made.

Variety

-

Essentially recasting "Grumpy Old Men" with the senescent specters of Rocky Balboa and Jake LaMotta, the result is sporadically amusing, with some chucklesome sight gags and crowdpleasing supporting turns from Alan Arkin and Kevin Hart, yet it's all so overcooked that it defeats its own purpose.

Chicago Sun-Times

-

Grudge Match does not work on any level. The story is unconvincing. The comedy elements are weak... And, worst of all, the acting in most scenes — particularly those involving Sylvester Stallone and Kim Basinger — is atrocious.
Grudge Match (2013)
A pair of aging boxing rivals are coaxed out of retirement to fight one final bout -- 30 years after their last match.