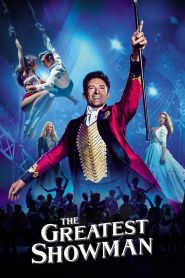 General Information
Glossary: T
Released Year: 2017
Runtime: 105 minutes
Genre: Biography, Drama, Musical, Romance
Directors: Michael Gracey
Casts: Zendaya, Hugh Jackman, Shannon Holtzapffel, Jeremy Hudson, Fredric Lehne, Zac Efron, Michelle Williams, Nick Jantz, Will Swenson, Damian Young, Kathryn Meisle, Tina Benko, Byron Jennings, Paul Sparks, Rebecca Ferguson, Luciano Acuna Jr., Keala Settle, Marko Caka, Betsy Aidem, Natasha Liu Bordizzo, Yahya Abdul-Mateen II, Gayle Rankin, Austyn Johnson, Sam Humphrey, Cameron Seely, Eric Anderson, Ellis Rubin, Skylar Dunn, Daniel Everidge, Radu Spinghel, Yusaku Komori, Danial Son, Linda Marie Larson, Arnie Burton, Jonathan Redavid, Timothy Hughes, Taylor James, Chelsea Caso, Caoife Coleman, Mishay Petronelli, Loren Allred, Ziv Zaifman, Isaac Eshete
IMDB: The Greatest Showman (2017)
Sponsored Links
Ratings
User Rating:
IMDB Rating:
7.7
Reviews
Variety

-

The director, Michael Gracey, is an Australian maker of commercials who has never directed a feature before, and he works with an exuberant sincerity that can't be faked. The Greatest Showman is a concoction, the kind of film where the pieces all click into place, yet at an hour and 45 minutes it flies by, and the link it draws between P.T. Barnum and the spirit of today is more than hype.

Entertainment Weekly

-

The movie never quite stops feeling like Moulin Rouge! written in extra-large block font, or Broadway projected straight onto a big screen, which certainly isn't bad news if that's exactly what you love.

IndieWire

-

Shamelessly familiar and profoundly alien in equal measure, The Greatest Showman takes a billion of the world's oldest story beats and refashions their prefab emotions into something that feels like it's being projected from another planet.

Movie Nation

-

The Greatest Showman is, like the singing, dancing, versatile actor who stars in it, larger than life. And if this is the only screen musical we can get out of the last of his peak performing years, it'll do.

The Guardian

-

It's not a film to break moulds or test boundaries. Yet Jackman's real charm will carry you along.
The Greatest Showman (2017)
The story of American showman P.T. Barnum, founder of the circus that became the famous traveling Ringling Bros. and Barnum & Bailey Circus.