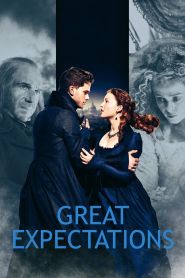 General Information
Glossary: G
Released Year: 2012
Runtime: 128 minutes
Genre: Drama, Romance
Directors: Mike Newell
Casts: Ralph Fiennes, Jason Flemyng, Jeremy Irvine, Helena Bonham Carter, David Walliams, Ewen Bremner, Holliday Grainger, Sally Hawkins, Robbie Coltrane, Gary Arthurs, Steve Morphew, Malcolm Tierney, Olly Alexander, Dale Mercer, Leigh Daniels, Jessie Cave, Ralph Ineson, Helena Barlow, Nick Bartlett, Jason Daly, Zac Mattoon O'Brien, Charlie Callaghan, Ronnie Fox, Kate Lock, Ben Lloyd-Hughes, Richard James, David G. Robinson, Bernice Stegers, Bebe Cave, William Ellis, Pooky Quesnel, Claire Ashton, Tamzin Outhwaite, Daniel Weyman, Edward Fleming, Sophie Rundle, Roberta Burton, Alan Rushton, Sheila Simpson, Tim Freeman, Toby Irvine, Joe Jameson, Peter Greed, Frank Dunne, Pablo Bubar, Nellie Burroughes, Filippo Delaunay, Kate Hefferman, Evelyn James, Patrick Moorhouse, Jimmy Pethrus, Charlie Richards
IMDB: Great Expectations (2012)
Sponsored Links
Ratings
User Rating:
IMDB Rating:
6.4
Reviews
Village Voice

-

Newell's film doesn't supplant Lean's, of course. The yearning is more vague, the gloom less consummate. But it's the best since, rich in feeling and dark beauty, alive with the superior scenecraft, chatter, and imagination of the most beloved of novelists.

The Hollywood Reporter

-

Vivid characterizations from Ralph Fiennes and Helena Bonham Carter are the highlights of Mike Newell's traditional retelling of the classic Dickens novel.

Observer

-

If your own expectations are not too high, you crave period-costume drama and you're one of those unfortunate people who refuses to watch anything in glorious black-and-white, this Great Expectations is worth the time and effort.

Total Film

-

Big vistas and big names can't compensate for the film's necessity to cram Dickens' rich, sprawling set of characters and twisty subplots into a two-hour film.

The Guardian

-

A watchable and accessible revival, though not groundbreaking, and not quite matching the story's passionate fear and rapture.
Great Expectations (2012)
Miss Havisham, a wealthy spinster who wears an old wedding dress and lives in the dilapidated Satis House, asks Pip's "Uncle Pumblechook" (who is actually Joe's uncle) to find a boy to play with her adopted daughter Estella. Pip begins to visit Miss Havisham and Estella, with whom he falls in love,then Pip a humble orphan suddenly becomes a gentleman with the help of an unknown benefactor.