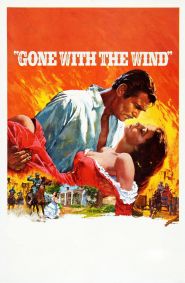 General Information
Glossary: G
Released Year: 1939
Runtime: 238 minutes
Genre: Drama, Romance, War
Directors: Victor Fleming
Writers: Oliver H.P. Garrett, Ben Hecht, Jo Swerling, John Van Druten
Casts: Dale Van Sickel, Cliff Edwards, Richard Farnsworth, Vivien Leigh, Clark Gable, Olivia de Havilland, Leslie Howard, Hattie McDaniel, Thomas Mitchell, Barbara O'Neil, Evelyn Keyes, Ann Rutherford, George Reeves, Fred Crane, Oscar Polk, Butterfly McQueen, Victor Jory, Everett Brown, Howard C. Hickman, Alicia Rhett, Rand Brooks, Carroll Nye, Laura Hope Crews, Eddie 'Rochester' Anderson, Harry Davenport, Leona Roberts, Jane Darwell, Ona Munson, Paul Hurst, Isabel Jewell, Cammie King, Eric Linden, J. M. Kerrigan, Ward Bond, Jackie Moran, Lillian Kemble-Cooper, Yakima Canutt, Marcella Martin, Louis Jean Heydt, Mickey Kuhn, Olin Howland, Irving Bacon, Robert Elliott, William Bakewell, Mary Anderson, John Albright, Eric Alden, John Arledge, Roscoe Ates, Trevor Bardette, Lennie Bluett, Ralph Brooks, Daisy Bufford, Ann Bupp, James Bush, Ruth Byers, Gary Carlson, Horace B. Carpenter, Louise Carter, Shirley Chambers, Eddy Chandler, Wallis Clark, Richard Clucas, Frank Coghlan Jr., Billy Cook, Gino Corrado, Martina Cortina, Luke Cosgrave, Kernan Cripps, Patrick Curtis, Ned Davenport, Yola d'Avril, Lester Dorr, Phyllis Douglas, Joan Drake, F. Driver, Edythe Elliott, Susan Falligant, Frank Faylen, Kelly Griffin, George Hackathorne, Chuck Hamilton, Evelyn Harding, Inez Hatchett, Jean Heker, William Hoehne Jr., Ricky Holt, Shep Houghton, Jerry James, Si Jenks, Tommy Kelly, Emmett King, W. Kirby, Timothy J. Lonergan, Margaret Mann, William McClain, George Meeker, Charles Middleton, Alberto Morin, Adrian Morris, Lee Murray, H. Nellman, David Newell, Naomi Pharr, Lee Phelps, Spencer Quinn, Jolane Reynolds, Marjorie Reynolds, Suzanne Ridgeway, Louisa Robert, Azarene Rogers, Scott Seaton, Tom Seidel, Terry Shero, William Stack, William Stelling, Harry Strang, Dirk Wayne Summers, Emerson Treacy, Phillip Trent, Julia Ann Tuck, Tom Tyler, E. Alyn Warren, Blue Washington, Rita Waterhouse, John Joseph Waterman Jr., Dan White, Sarah Whitley, Ernest Whitman, Guy Wilkerson, Zack Williams, John Wray, Arthur Tovey
IMDB: Gone with the Wind (1939)
Sponsored Links
Ratings
User Rating:
IMDB Rating:
8.2
Reviews
Chicago Sun-Times

-

A towering landmark of film, quite simply because it tells a good story, and tells it wonderfully well.

Empire

-

Well, even if it is essentially four hours about a selfish, silly cow, it's impeccably well made, and should be seen by anyone with even a passing interest in romance or movies.

Variety

-

One of the truly great films, destined for record-breaking box office business everywhere. The lavishness of its production, the consummate care and skill which went into its making, the assemblage of its fine cast and expert technical staff combine in presenting a theatrical attraction completely justifying the princely investment of $3,900,000.

The Guardian

-

Some elements seem grotesquely dated, but this restoration of the 1939 classic finds the film as powerful and mad as ever.

Entertainment Weekly

-

To see Gone With the Wind on a big screen again is to weep for the fearlessness with which Hollywood once believed the sublime was possible.
Gone with the Wind (1939)
The spoiled daughter of a well-to-do plantation owner is forced to use every means at her disposal to claw her way out of poverty, following Maj. Gen. William Sherman's destructive "March to the Sea," during the American Civil War.