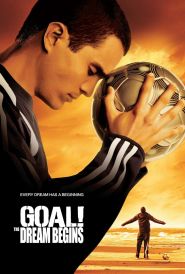 General Information
Glossary: G
Released Year: 2005
Runtime: 118 minutes
Genre: Drama, Romance, Sport
Directors: Danny Cannon
Casts: Stephen Graham, Miriam Colón, Sean Pertwee, Alessandro Nivola, Anna Friel, Gary Lewis, Emma Field-Rayner, Kuno Becker, Stephen Dillane, Frances Barber, Kieran O'Brien, Marcel Iureș, Tony Plana, Nicholas Lumley, Kate Tomlinson, Zachary Johnson, Kevin Knapman
IMDB: Goal! The Dream Begins
Sponsored Links
Ratings
User Rating:
IMDB Rating:
6.7
Reviews
Chicago Tribune

-

Most sports films are also fish-out-of-water stories, and this one qualifies as both.

The A.V. Club

-

How much viewers care about what happens in Goal! is directly proportionate to how much they care about soccer, because decent execution aside, there's an underdog fantasy movie just like this one for every sport.

USA Today

-

The film is capably acted and somewhat inspiring.

Variety

-

A slickly mounted slice of can-do nonsense.

Entertainment Weekly

-

The cast, all around, is sterling. There's only one thing they don't need to bring back for the sequels, and that's the movie's appetite for every sports cliché there ever was.
Goal! The Dream Begins
Like millions of kids around the world, Santiago harbors the dream of being a professional footballer...However, living in the Barrios section of Los Angeles, he thinks it is only that--a dream. Until one day an extraordinary turn of events has him trying out for Premiership club Newcastle United.