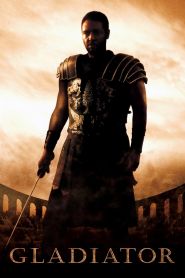 General Information
Glossary: G
Released Year: 2000
Runtime: 155 minutes
Genre: Action, Adventure, Drama, History
Directors: Ridley Scott
Casts: Tony Curran, Russell Crowe, Joaquin Phoenix, Connie Nielsen, Oliver Reed, Richard Harris, Derek Jacobi, Djimon Hounsou, David Schofield, John Shrapnel, Tomas Arana, Ralf Moeller, Tommy Flanagan, Spencer Treat Clark, David Hemmings, Sven-Ole Thorsen, Giannina Facio, Alun Raglan, Giorgio Cantarini, David Bailie, Omid Djalili, Nicholas McGaughey, Mark Lewis, John Quinn, Al Hunter Ashton, Allan Corduner, Michael Mellinger, Said Amel, Adam Levy, Gilly Gilchrist, David Nicholls, Malcolm Ellul, Ray Mangion, James Fiddy, João Costa Menezes, Mike Mitchell, Norman Campbell Rees, Steve Saunders, Brian Smyj
IMDB: Gladiator (2000)
Sponsored Links
Ratings
User Rating:
IMDB Rating:
8.5
Reviews
Philadelphia Inquirer

-

It's a stunning Roman triumph.

Entertainment Weekly

-

What matters for today's hero is the good fight, and Gladiator KOs us with a doozy.

New York Post

-

An exhilarating, sweeping epic that begs to be seen on the largest possible screen.

Miami Herald

-

Lacks emotional depth and sweep -- but the movie still delivers the type of rousing, large-scale adventure that marked the best films of its kind

Film.com

-

The heroism and the tigers and the epic grandeur all leave behind the flavor of cynicism.
Gladiator (2000)
In the year 180, the death of emperor Marcus Aurelius throws the Roman Empire into chaos. Maximus is one of the Roman army's most capable and trusted generals and a key advisor to the emperor. As Marcus' devious son Commodus ascends to the throne, Maximus is set to be executed. He escapes, but is captured by slave traders. Renamed Spaniard and forced to become a gladiator, Maximus must battle to the death with other men for the amusement of paying audiences.