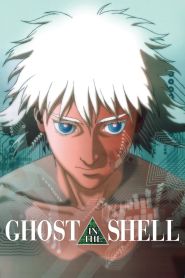 General Information
Glossary: G
Released Year: 1995
Runtime: 83 minutes
Genre: Action, Animation, Crime, Drama, Mystery, Sci-Fi, Thriller
Directors: Mamoru Oshii
Casts: Akio Otsuka, Iemasa Kayumi, Takashi Matsuyama, Kouichi Yamadera, Tesshou Genda, Atsuko Tanaka, Yutaka Nakano, Maaya Sakamoto, Shigeru Chiba, Kazuhiro Yamaji, Naruki Masahisa, Masato Yamanouchi, Mitsuru Miyamoto, Hiroshi Yanaka, Ginzô Matsuo, Sanryô Odaka, Masamichi Satô, Atsuko Hayashida, Toshiki Kameyama, Atsushi Goto
IMDB: Ghost in the Shell (1995)
Sponsored Links
Ratings
User Rating:
IMDB Rating:
8.0
Reviews
The Telegraph

-

There are gripping chases and balletic combat scenes, painstakingly realised by Oshii's animators, but the mood is mostly cold and melancholic, as Kusanagi broods over the fleshly implications of living in a world of data

Time Out London

-

The plot is impossibly dense and the characters – perhaps appropriately – feel like little more than cyphers, but for sheer mind-expanding sci-fi strangeness this is hard to beat.

The Dissolve

-

For a movie that's so photo-realistic in its backgrounds and detailed in its character design, Ghost In The Shell is just as effective when it goes minimal, suggesting presence through absence.

The Guardian

-

It is a dizzying, headspinning film, replete with violence, alienation and tech-porn. I confess I find it too opaque to make the kind of investment that would qualify me as a real fan. But it should be seen.

Total Film

-

Most alluring are the crumbling neon cityscapes, real world/cyberspace fusion and the musings on identity.
Ghost in the Shell (1995)
In the year 2029, the barriers of our world have been broken down by the net and by cybernetics, but this brings new vulnerability to humans in the form of brain-hacking. When a highly-wanted hacker known as 'The Puppetmaster' begins involving them in politics, Section 9, a group of cybernetically enhanced cops, are called in to investigate and stop the Puppetmaster.