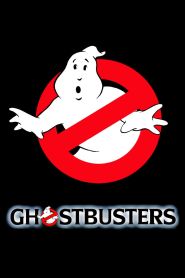 General Information
Glossary: G
Released Year: 1984
Runtime: 107 minutes
Genre: Comedy, Fantasy, Sci-Fi
Directors: Ivan Reitman
Casts: Bill Murray, Sigourney Weaver, Annie Potts, Harold Ramis, Larry King, David Margulies, Dan Aykroyd, Alice Drummond, William Atherton, Reginald VelJohnson, Rick Moranis, Ernie Hudson, Slavitza Jovan, Sam Moses, Michael Ensign, John Rothman, John Ring, Casey Kasem, Frantz Turner, Frances E. Nealy, Tommy Hollis, Norman Matlock, Jennifer Runyon, Steven Tash, Jordan Charney, Timothy Carhart, Tom McDermott, Joe Cirillo, Joe Schmieg, Roger Grimsby, Joe Franklin, Rhoda Gemignani, Murray Rubin, Larry Dilg, Danny Stone, Patty Dworkin, Jean Kasem, Lenny Del Genio, Christopher Wynkoop, Winston May, Eda Reiss Merin, Ric Mancini, Carol Ann Henry, James Hardie, Paul Trafas, Cheryl Birchenfield, Kymberly Herrin, Stanley Grover, Ruth Oliver, Nancy Kelly
IMDB: Ghost Busters (1984) - IMDB
Sponsored Links
Ratings
User Rating:
IMDB Rating:
7.8
Reviews
Chicago Sun-Times

-

Ghostbusters is one of those rare movies where the original, fragile comic vision has survived a multimillion-dollar production.

Chicago Tribune

-

Ghostbusters is a hoot. It's Murray's picture, and in a triumph of mind over matter, he blows away the film's boring special effects with his one-liners. Spotting a lusty, totally transformed, fire-breathing Slgourney Weaver, whose body has been overtaken by a spirit, Murray walks past her saying, "That's a new look for you, isn't it?" Thank you, Bill. And don't get outta here, you knucklehead. We like you in this kind of movie.

Time

-

Whoever thought of having evil's final manifestation take the form of a 100-ft. marshmallow deserves the rational mind's eternal gratitude. But praise is due to everyone connected with Ghostbusters for thinking on a grandly comic scale and delivering the goofy goods, neatly timed and perfectly packaged.

TV Guide Magazine

-

With his deadpan delivery and snide quips, Murray more than holds his own amid the myriad state-of-the-art special effects.

The Hollywood Reporter

-

Although it reunites the comic talents of director Ivan Reitman, writer Harold Ramis and star Bill Murray, the team responsible for the Meatballs phenomenon, their style here is far more laid-back and relaxed. There are still plenty of laughs, but not of the frantic sledgehammer variety.
Ghost Busters (1984)
After losing their academic posts at a prestigious university, a team of parapsychologists goes into business as proton-pack-toting "ghostbusters" who exterminate ghouls, hobgoblins and supernatural pests of all stripes. An ad campaign pays off when a knockout cellist hires the squad to purge her swanky digs of demons that appear to be living in her refrigerator.