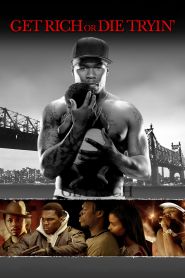 General Information
Glossary: G
Released Year: 2005
Runtime: 117 minutes
Genre: Biography, Crime, Drama, Music
Directors: Jim Sheridan
Casts: Serena Reeder, Boyd Banks, Ryan Allen, Adewale Akinnuoye-Agbaje, Viola Davis, 50 Cent, Omar Benson Miller, Joy Bryant, Terrence Howard, Ashley Walters, Tory Kittles, Marc John Jefferies, Sullivan Walker, Bill Duke, Mpho Koaho, Russell Hornsby, Vanessa Madden, Joseph Pierre, Brendan Jeffers, Anastasia Hill, Zainab Musa, Lawrence Bayne
IMDB: Get Rich or Die Tryin' (2005)
Sponsored Links
Ratings
User Rating:
IMDB Rating:
5.2
Reviews
Chicago Tribune

-

Sheridan's ensemble ensures that "Get Rich," the film, comes to life around the edges, if not at its center.

Variety

-

Mildly engaging but very far from being for 50 Cent what "8 Mile" was for Eminem, this lurchingly structured story of survival against the odds looks to get off to a strong start thanks to the singer's large following.

The Hollywood Reporter

-

For all its biographical truth, Get Rich's journey into a ghetto of hustlers, gangstas and mindless violence is all too familiar.

The A.V. Club

-

Parts of Get Rich Or Die Tryin' crackle with energy, vitality, and texture, like the prison-shower fight that descends into a weird sort of slapstick farce. But 50's leaden turn drags the film down. Scenes celebrating his personal and professional triumph ring hollow, since Rich never really gets under his skin.

The New York Times

-

The parts of Get Rich or Die Tryin' that feel most genuine have to do with friendship and family, rather than with criminal intrigue. But the movie ultimately lacks an emotional core. It will certainly make 50 Cent even richer, but it wouldn't have killed him to try a bit harder.
Get Rich or Die Tryin' (2005)
A tale of an inner city drug dealer who turns away from crime to pursue his passion, rap music.