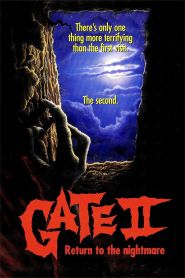 General Information
Glossary: T
Released Year: 1990
Runtime: 90 minutes
Genre: Comedy, Fantasy, Horror
Directors: Tibor Takács
Writers: Michael Nankin
Casts: Simon Reynolds, Gerry Mendicino, Elva Mai Hoover, Pamela Adlon, James Kidnie, Irene Pauzer, Carl Kraines, Louis Tripp, James Villemaire, Neil Munro, Larry O'Brey, Mark Saunders, Todd Postlethwaite, Edward Leefe, Layne Coleman, Anita Olanick, Andrea Ladányi
IMDB: The Gate II: Trespassers (1990) - IMDB
Sponsored Links
Ratings
User Rating:
IMDB Rating:
4.7
Reviews
| | |
| --- | --- |
| | There are currently no reviews available. |
The Gate II: Trespassers (1990)
It's been five years since Terry's friend Glen discovered The Gate to hell in his backyard. Glen has now moved away and Terry begins practicing rituals in Glen's old house and eventually bringing back demons through The Gate and leading to demoniac possession and near world domination.