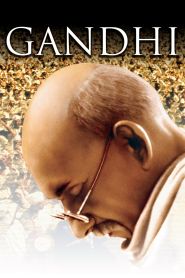 General Information
Glossary: G
Released Year: 1982
Runtime: 191 minutes
Genre: Drama, History
Directors: Richard Attenborough
Casts: Ben Kingsley, Rupert Frazer, Martin Sheen, John Ratzenberger, Richard Griffiths, Bernard Hill, Geraldine James, Jack McKenzie, Norman Chancer, Ian Bannen, David Gant, Bernard Horsfall, Peter Cartwright, Daniel Day-Lewis, Om Puri, Harsh Nayyar, Shane Rimmer, Derek Lyons, Trevor Howard, Stanley Lebor, Candice Bergen, Marius Weyers, Graham Seed, Nigel Hawthorne, Ray Burdis, Edward Fox, Colin Farrell, Gerald Sim, Keith Drinkel, Richard Vernon, Amrish Puri, Roshan Seth, Moti Makan, Ernest Clark , Fred Wood, Terrence Hardiman, Dalip Tahil, John Boxer, John Mills, Daniel Peacock, Richard Leech, Alok Nath, Winston Ntshona, John Gielgud, James Cossins, William Hoyland, David Sibley, Michael Godley, John Savident, Tom Alter, Michael Hordern, Anang Desai, Jon Croft, Athol Fugard, Supriya Pathak, Rohini Hattangadi, Pankaj Kapur, Bernard Hepton, Ken Hutchison, Geoffrey Chater, Dominic Guard, Neena Gupta, Ian Charleson, Saeed Jaffrey, Alyque Padamsee, Günther Maria Halmer, Shreeram Lagoo, Michael Bryant, John Clements, Vijay Kashyap, Peter Harlowe, Richard Mayes, Charu Bala Chokshi, Avis Bunnage, Mohan Agashe, Christopher Good, David Markham, Jalal Agha, K.K. Raina, Nana Palsikar, Sanjeev Puri, Habib Tanvir, Barry John, Brian Oulton, James Snell, Vinay Apte, Suhas Palshikar, Shekhar Chatterjee, Amarjeet, Sunil Shende, Sudhir Dalvi, John Quentin
IMDB: Gandhi (1982)
Sponsored Links
Ratings
User Rating:
IMDB Rating:
8.1
Reviews
Chicago Sun-Times

-

What is important about this film is not that it serves as a history lesson (although it does) but that, at a time when the threat of nuclear holocaust hangs ominously in the air, it reminds us that we are, after all, human, and thus capable of the most extraordinary and wonderful achievements, simply through the use of our imagination, our will, and our sense of right.

The Telegraph

-

Attenborough's stately film is in every sense of the word an epic and Ben Kingsley is superb as Mahatma Ghandi, aging as he does 50 years during the three-hour film, and transforming from dapper young lawyer to loin-cloth wearing ascetic.

Variety

-

Once in a long while a motion picture so eloquently expressive and technically exquisite comes along that one is tempted to hail it as being near perfect. Such a film is Gandhi.

The Guardian

-

With the help of his cinematographers, Billy Williams and Ronnie Taylor, Attenborough has produced a very beautiful-looking movie that is maybe a little too seductive for its own good. But Attenborough shows once again his skill in managing the big set-piece.

Slate

-

Yes, Gandhi is a hagiography and not a nuanced, darkly shaded, or even very convincing portrait of an ambitious and deeply strange man. And as an account of the muddled, messy origins of Indian independence, the film is guilty of historical malpractice. But taken as a black-and-white morality play, Gandhi is unmatched. Simplifications and all, this is the movie my parents wanted me to see as a child—and it's the movie I'd want my own (purely theoretical) children to see as well.
Gandhi (1982)
In the early years of the 20th century, Mohandas K. Gandhi, a British-trained lawyer, forsakes all worldly possessions to take up the cause of Indian independence. Faced with armed resistance from the British government, Gandhi adopts a policy of 'passive resistance', endeavouring to win freedom for his people without resorting to bloodshed.