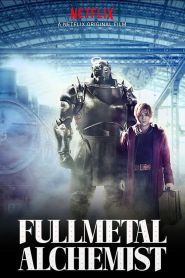 General Information
Glossary: F
Released Year: 2017
Runtime: 135 minutes
Genre: Action, Adventure, Fantasy, Sci-Fi
Directors: Fumihiko Sori
Casts: Yo Oizumi, Jun Kunimura, Fumiyo Kohinata, Kanata Hongo, Ryosuke Yamada, Tsubasa Honda, Dean Fujioka, Ryuta Sato, Misako Renbutsu, Kenjiro Ishimaru, Yasuko Matsuyuki, Shinji Uchiyama, Natsuki Harada, Natsuna Watanabe
IMDB: Fullmetal Alchemist (2017) - IMDB
Sponsored Links
Ratings
User Rating:
IMDB Rating:
5.9
Reviews
IGN

-

While there are flaws galore in this live-action movie version, you get a sense that the director has a real love for the original source material. The color schemes and costumes have exactly the right hues and texture, and the ambiance is engaging overall.

The Hollywood Reporter

-

Characters come and go quickly, leaving a feeling that there is too much compression of the multi-episode story.

Screen International

-

Instances of alchemy abound in the narrative — walls are converted into projectiles, brick courtyards into hungry beasts — but the same magic can't improve soap opera-like theatrics, the overuse of expositional dialogue or an eagerness to flit between action scenes.

Variety

-

The first live-action adaptation of the phenomenally popular Japanese manga created by female author Hiromu Arakawa proves to be a mixed bag of eye-catching visuals and uneven storytelling — rushed and choppy at times, and draggy and repetitive at others.

The Telegraph

-

It all feels grindingly perfunctory – gloopy with jargon and lore, and with no concessions made to newcomers, the film feels less like a worthwhile film in its own right than an invitation to existing fans to buy a ticket, just to see how things turned out.
Fullmetal Alchemist (2017)
Two alchemist brothers go on a quest for the Philosopher's Stone after an attempt to revive their dead mother goes horribly wrong.