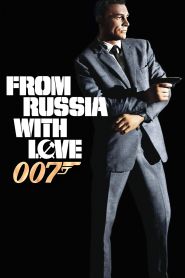 General Information
Glossary: F
Released Year: 1963
Runtime: 115 minutes
Genre: Action, Adventure, Thriller
Directors: Terence Young
Casts: Michael Culver, Barbara Jefford, Sean Connery, Gordon Sterne, Aileen Lewis, Robert Shaw, Victor Harrington, Desmond Llewelyn, Peter Brayham, Bernard Lee, Lois Maxwell, Nađa Regin, Bill Brandon, Walter Gotell, Eric Pohlmann, Daniela Bianchi, Pedro Armendáriz, Lotte Lenya, Eunice Gayson, Francis de Wolff, Aliza Gur, Vladek Sheybal, George Pastell, Martine Beswick, Jan Williams, Peter Madden, Julie Mendez, Anthony Dawson, Hasan Ceylan, Neville Jason, Peter Bayliss, Nusret Ataer, Moris Farhi, Alf Mangan, Dido Plumb, Ernie Rice, Fred Wood, Andre Charisse, Hugo de Vernier, Elizabeth Counsell, Jim O'Brady, Pat Ryan, Bob Simmons, Nikki Van der Zyl, Bedri Çavusoglu
IMDB: From Russia with Love (1963)
Sponsored Links
Ratings
User Rating:
IMDB Rating:
7.5
Reviews
RogerEbert.com

-

Despite its occasional shortcomings, From Russia with Love is still a terrific Bond entry. There's true chemistry between Connery's 007 and Armendariz's Kerim Bey, and it is all the more remarkable when considering that the Mexican actor was in great pain and living his final days while the shooting took place. His character's eventual fate is among the few in the Bonds to have a real emotional impact.

IndieWire

-

From Russia With Love has two of the sexiest images I've ever seen: the opening credits with the names projected on belly dancers' writhing, whirling bodies, and the scene where a bare-chested, towel-clad Bond enters his bedroom and finds Tatiana Romanova in his bed. Images like that aren't cute. They're primordial.

Chicago Reader

-

For my money, still the best Bond, with a screwball plotline that keeps the locales changing and the surprises coming—even when reason dictates that the picture should be over. Lotte Lenya and Robert Shaw make a creepy pair, and Daniela Bianchi embodies the essence of centerfold sex, circa 1964.

The Guardian

-

It may seem grainy and fusty compared to the all-action tongue-in-cheek spectaculars that came later, but it's the Bond closest to my heart.

The New York Times

-

There's no point in trying to tell you all the mad, naughty things that take place — the meetings with mysterious people, the encounters with beautiful girls, the bomb explosions, the chases, the violent encounter of Bond with a helicopter, a motor boat race. Nor is there any point in trying to locate the various characters in the plot, all of whom are deliciously fantastic and delightfully well played.
From Russia with Love (1963)
Agent 007 is back in the second installment of the James Bond series, this time battling a secret crime organization known as SPECTRE. Russians Rosa Klebb and Kronsteen are out to snatch a decoding device known as the Lektor, using the ravishing Tatiana to lure Bond into helping them. Bond willingly travels to meet Tatiana in Istanbul, where he must rely on his wits to escape with his life in a series of deadly encounters with the enemy