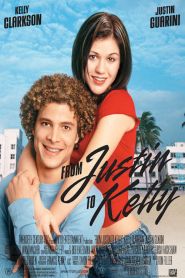 General Information
Glossary: F
Released Year: 2003
Runtime: 90 minutes
Genre: Comedy, Romance
Directors: Robert Iscove
Writers: Kim Fuller
Casts: Becca Sweitzer, Zachary Woodlee, Robert Hoffman, Marc Macaulay, Gustavo Vargas, Toi Svane Stepp, Brandon Henschel, Nancy O'Meara, Melanie Benz, Kato Bonner, Anika Noni Rose, Nancy Anderson, Jason Yribar, Janina Garraway, Melanie Lewis, Dondraico Johnson, Alison Faulk, Teresa Espinosa, Sherman Roberts, Laurie Sposit, Christian George, Chuck Maldonado, Katherine Bailess, Theresa San-Nicholas, Kaitlin Riley, Kelly Clarkson, Justin Guarini, Greg Siff, Brian Dietzen, Justin Gorence, Christopher Bryan, Yamil Piedra, Renee Robertson, Louis Smith 'Tre Luv', Michael Yo, Jessica Sutta, Camila Quaresma, Jeffrey C. Moore, Karin Freeland, Samomé Surles, Kristin Denehy, Leo Moctezuma, Kehynde Hill, Brooke Lipton, Michael Morris, Brandi Oglesby, Misty Rascon, Adrian Rozas Cristino, Gilbert Saldivar, Josh Seffinger, Henry Herrera, Zumel Michel
IMDB: From Justin to Kelly (2003)
Sponsored Links
Ratings
User Rating:
IMDB Rating:
2.1
Reviews
L.A. Weekly

-

Full of gumption, Clarkson and Guarini soldier on, seemingy unaware that the perfectly adequate singing voices that brought them to the big screen are being drowned out, on a half-dozen same-sounding songs, by an overlayered backup group.

The New York Times

-

They play cotton candy effigies of themselves named Kelly and Justin, and the best that can be said is that they don't embarrass themselves.

Variety

-

The most resounding thuds in From Justin to Kelly, however, come from the musical numbers.

Miami Herald

-

A feather-light musical rushed into production to capitalize on American Idol-frenzy, is nothing more than an excuse to give the two leads several musical numbers, a la those Frankie Avalon-Annette Funicello "Beach Blanket Bingo" movies, and with just about the same amount of substance, too.

Philadelphia Inquirer

-

In this frothy beach movie, they make pop-music lite together but create an utterly unconvincing romantic couple, seeming more like siblings or best friends. From Ruben to Clay might work better.
From Justin to Kelly (2003)
A lonely, sexually repressed man. A depressed woman. A summer camp. On this fateful night, they will meet . . . and their hearts will become one.