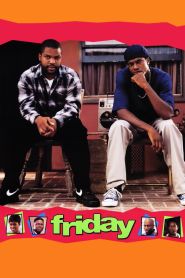 General Information
Glossary: F
Released Year: 1995
Runtime: 91 minutes
Genre: Comedy, Drama
Directors: F. Gary Gray
Casts: Michael Clarke Duncan, Tom Lister Jr., Bernie Mac, Chris Tucker, Ice Cube, Nia Long, Meagan Good, F. Gary Gray, Faizon Love, Tony Cox, Regina King, John Witherspoon, DJ Pooh, Anna Maria Horsford, Anthony Johnson, Paula Jai Parker, Terri J. Vaughn, Reynaldo Rey
IMDB: Friday (1995) - IMDB
Sponsored Links
Ratings
User Rating:
IMDB Rating:
7.3
Reviews
Boston Globe

-

Friday is funnier and funkier than "Bad Boys," more homegrown-seeming, less manufactured. It plays like "House Party" with attitude. [26 Apr 1995]

TV Guide Magazine

-

A star vehicle for rapper Ice Cube (who also cowrote and coproduced), Friday is a lighthearted, comedic presentation of the realities chronicled in dramas like "Boyz N the Hood."

Washington Post

-

In his [Ice Cube's] dramatic roles, Cube's raised eyebrows usually unleashed a fearsome glare and a hint of danger; here, his expressions are more quizzical, amused or confused. He plays against type, just as the movie itself plays against hype.

Los Angeles Times

-

It's the right format for this scattershot jokefest, which at times resembles a vaudeville act crossed with the kind of goofy bludgeoning antics that sometimes make it into gangsta MTV videos. [26 Apr 1995]

The New York Times

-

Friday may touch its young target audience. For everyone else, it is more intriguing as a social problem than a movie.
Friday (1995)
Craig and Smokey are two guys in Los Angeles hanging out on their porch on a Friday afternoon, smoking and drinking, looking for something to do.