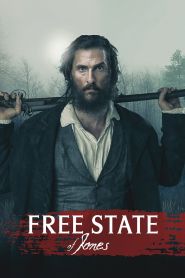 General Information
Glossary: F
Released Year: 2016
Runtime: 139 minutes
Genre: Action, Biography, Drama, History, War
Directors: Gary Ross
Writers: Gary Ross
Casts: Will Beinbrink, Joe Chrest, Mattie Liptak, Gary Grubbs, David Jensen, P.J. Marshall, Keri Russell, Matthew Lintz, Ritchie Montgomery, Mahershala Ali, Dane Rhodes, Lara Grice, Lawrence Turner, Wayne Pére, Matthew McConaughey, Troy Hogan, Christopher Berry, Kerry Cahill, Gugu Mbatha-Raw, Thomas Francis Murphy, Jessica Collins, Bill Tangradi, Jane McNeill, Jacob Lofland, Jill Jane Clements, Sean Bridgers, Liza J. Bennett, Sam Malone, Jim Klock, Brad Carter, Kylen Davis, Johnny McPhail, Juan Gaspard, David Maldonado, Kurt Krause, Carlton Caudle, Martin Bats Bradford, Serenity Neil, Emily Bossak, William Mark McCullough, Cy Parks
IMDB: Free State of Jones (2016)
Sponsored Links
Ratings
User Rating:
IMDB Rating:
6.9
Reviews
Charlotte Observer

-

The movie remains quiet and deliberate, a synonym for "boring" in some minds (though not mine). In the end, it becomes an allegory for the times in which we live.

San Francisco Chronicle

-

Free State of Jones is an extraordinarily ambitious film, and for that reason, it's not perfect.

TheWrap

-

That you may learn a good deal about an unusually driven man, but never quite feel emotionally connected to him, means Ross has hit a workmanlike middle, crafting a handsome textbook more than a blood-pumping portrait.

Screen International

-

Although occasionally stirring, the film rarely rises above the level of intriguing anecdote, resulting in a deeply drab drama enlivened somewhat by Matthew McConaughey's empathetic performance.

Variety

-

For all the ravaged surface appeal of McConaughey's performance, the character is a little too good to be true, but then, that's just the sort of movie Free State of Jones is. It's a tale of racial liberation and heroic bloodshed that is designed, at almost every turn, to lift us up to that special place where we can all feel moved by what good liberals we are.
Free State of Jones (2016)
In 1863, Mississippi farmer Newt Knight serves as a medic for the Confederate Army. Opposed to slavery, Knight would rather help the wounded than fight the Union. After his nephew dies in battle, Newt returns home to Jones County to safeguard his family but is soon branded an outlaw deserter. Forced to flee, he finds refuge with a group of runaway slaves hiding out in the swamps. Forging an alliance with the slaves and other farmers, Knight leads a rebellion that would forever change history.