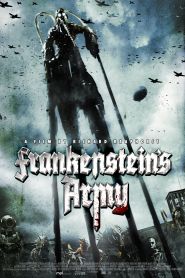 General Information
Glossary: F
Released Year: 2013
Runtime: 84 minutes
Genre: Action, Horror
Directors: Richard Raaphorst
Writers: Miguel Tejada-Flores, Chris W. Mitchell
Casts: Karel Roden, Luke Newberry, Hon Ping Tang, Andrei Zayats, Alexander Mercury, Robert Gwilym, Joshua Sasse, Mark Stevenson, Cristina Catalina, Jan de Lukowicz
IMDB: Frankenstein's Army (2013)
Sponsored Links
Ratings
User Rating:
IMDB Rating:
5.3
Reviews
Slant Magazine

-

The found-footage gimmick mostly comes off as window dressing for what turns out to be yet another mad-scientist-run-amok romp.

New York Post

-

Frankenstein's Army is funny and original, with innovative costumes and set designs. It's sure to please horror fans.

Variety

-

Pic's monotone edges towards monotony by the end of the third act, but as no-budget calling-card features go, Frankenstein's Army remains a grisly cut above.

Village Voice

-

The film itself works best once most of the soldiers have been dispatched—too often in the first half, the constant running and discharging of firearms proves too similar to watching a first-person-shooter video game.

The New York Times

-

Narrative depth may be in short supply, but the energy, invention and humor are bracing.
Frankenstein's Army (2013)
Toward the end of World War II, Russian soldiers pushing into eastern Germany stumble across a secret Nazi lab, one that has unearthed and begun experimenting with the journal of one Dr. Victor Frankenstein. The scientists have used the legendary Frankenstein's work to assemble an army of super-soldiers stitched together from the body parts of their fallen comrades -- a desperate Hitler's last ghastly ploy to escape defeat