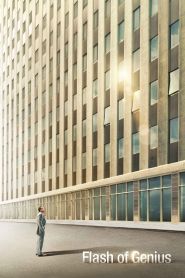 General Information
Glossary: F
Released Year: 2008
Runtime: 119 minutes
Genre: Biography, Drama
Directors: Marc Abraham
Writers: Philip Railsback, John Seabrook
Casts: Alan Alda, Aaron Abrams, Jake Abel, Greg Kinnear, Tatiana Maslany, Lauren Graham, Tim Kelleher
IMDB: Flash of Genius (2008)
Sponsored Links
Ratings
User Rating:
IMDB Rating:
7.0
Reviews
Chicago Sun-Times

-

Alda gives the film's strongest performance. Kinnear, often a player of light comedy, does a convincing job of making this quiet, resolute man into a giant slayer.

Philadelphia Inquirer

-

Kinnear does what he's done in the past: You underestimate the guy's acting chops, and suddenly, strikingly, he floors you.

The A.V. Club

-

It's a smart movie for grownups, an increasingly rare commodity.

Entertainment Weekly

-

The individual components of director Marc Abraham's David-and-Goliath drama are roundly unexceptional; the script, soft and teach-y; the performances, earnest.

ReelViews

-

In short, Flash of Genius fails to make viewers care with any depth about the story it's telling.
Flash of Genius (2008)
In this David vs. Goliath drama based on a true story, college professor Robert Kearns (Greg Kinnear) goes up against the giants of the auto industry when they fail to give him credit for inventing intermittent windshield wipers. Kearns doggedly pursues recognition for his invention, as well as the much-deserved financial rewards for the sake of his wife (Lauren Graham) and six kids.