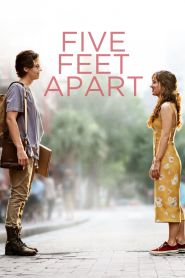 General Information
Glossary: F
Released Year: 2019
Runtime: 116 minutes
Genre: Drama, Romance
Directors: Justin Baldoni
Writers: Tobias Iaconis, Mikki Daughtry
Casts: Claire Forlani, Moisés Arias, Cole Sprouse, Emily Baldoni, Cynthia Evans, Gary Weeks, Parminder Nagra, Haley Lu Richardson, Sue-Lynn Ansari, Rebecca Chulew, Trina LaFargue, Kimberly Hebert Gregory, Ariana Guerra, Cecilia Leal, Sophia Bernard, Brett Austin Johnson
IMDB: Five Feet Apart (2019)
Sponsored Links
Ratings
User Rating:
IMDB Rating:
7.1
Reviews
Los Angeles Times

-

The cystic fibrosis-themed romantic drama Five Feet Apart feels like a real evolution in the sick teen movie genre, because it's actually a great movie that just happens to be about sick teens, and it doesn't condescend or try to cheer up anyone.

Philadelphia Daily News

-

The movie is actually not bad, until it goes full Lifetime Channel crazy in the third act.

Variety

-

Fresh off of memorable supporting parts in "The Edge of Seventeen" and "Support the Girls," Richardson gives a star turn every bit as charismatic and assured as the film is formulaic and forgettable, bringing soul, style and nuance to a character that could have easily been a condescending caricature.

The New York Times

-

Richardson, previously wonderful with good material ("Columbus," "Support the Girls"), here cements her genius status by finding depths beyond the contrived screenplay.

The A.V. Club

-

Unfortunately, welcome insight into the physical and emotional experience of living with cystic fibrosis eventually gives way to increasingly improbable romantic and dramatic scenarios...By its third act, the film almost starts to feel like a parody of the most maudlin conventions of the "sick teen romance" genre.
Five Feet Apart (2019)
Seventeen-year-old Stella spends most of her time in the hospital as a cystic fibrosis patient. Her life is full of routines, boundaries and self-control -- all of which get put to the test when she meets Will, an impossibly charming teen who has the same illness. There's an instant flirtation, though restrictions dictate that they must maintain a safe distance between them. As their connection intensifies, so does the temptation to throw the rules out the window and embrace that attraction.