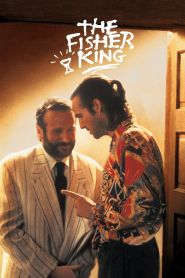 General Information
Glossary: T
Released Year: 1991
Runtime: 137 minutes
Genre: Comedy, Drama, Fantasy
Directors: Terry Gilliam
Writers: Richard LaGravenese
Casts: Robin Williams, Amanda Plummer, Kathy Najimy, Michael Jeter, John de Lancie, Jeff Bridges, Jayce Bartok, Bradley Gregg, Harry Shearer, Diane Robin, Mark Bowden, Ted Ross, David Hyde Pierce, Dan Futterman, Tom Waits, John Ottavino, Mercedes Ruehl, Lara Harris, Paul Lombardi, Lisa Blades, Adam Bryant, Warren Olney, Frazer Smith, Melinda Culea, James Remini
IMDB: The Fisher King (1991) - IMDB
Sponsored Links
Ratings
User Rating:
IMDB Rating:
7.6
Reviews
Washington Post

-

A modern epic that fuses myth with hard-edged reality, it's a one-of-a-kind, thoroughly engaging experience.

Variety

-

The Fisher King has two actors at the top of their form, and a compelling, well-directed and well-produced story.

The New York Times

-

What emerges, in the end, are a clever premise that has been allowed to go awry and several performances that are lively and unpredictable enough to transcend the confusion. Mr. Bridges, always a fine intuitive actor, has never displayed a greater range.

Chicago Reader

-

If you treasure Gilliam at his best and take his ideas seriously, you'll probably be infuriated as well as delighted.

Rolling Stone

-

Restores our belief in the power of movies to transform reality, even temporarily. So what if it's not perfect? It's magic.
The Fisher King (1991)
Two troubled men face their terrible destinies and events of their past as they join together on a mission to find the Holy Grail and thus to save themselves.