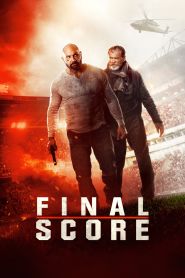 General Information
Glossary: F
Released Year: 2018
Runtime: 105 minutes
Genre: Action
Directors: Scott Mann, Scott Mann
Writers: Jonathan Frank, Jonathan Frank, David T. Lynch, Keith Lynch
Casts: Ray Stevenson, Craig Conway, Ralph Brown, Lucy Gaskell, Pierce Brosnan, Dave Bautista, Amit Shah, Julian Cheung, Bill Fellows, Daniel Eghan, Adam Lazarus, Andrei Satalov, Martyn Ford, Benny Bereal, Alexandra Dinu, Lara Peake, Aaron McCusker, Shane Hart, Stella Paris, Guz Khan, Jonathan Pearce, Nathalie Armin
IMDB: Final Score (2018)
Sponsored Links
Ratings
User Rating:
IMDB Rating:
5.7
Reviews
Time Out

-

It is wittier, warmer and more unpredictable than it has any right to be.

The Guardian

-

Final Score puts a cheeky British spin on the set-up.

Variety

-

Park your brain cells in the lobby, and this U.K. production about a terrorist attack on a London soccer stadium — with Dave Bautista as Bruce Willis plus 100 or so extra pounds of muscle — is an entertainingly over-the-top ride that doesn't even try to be "credible." It's not quite daft or otherwise distinctive enough to be memorable.

Los Angeles Times

-

The characters are familiar movie types sufficiently fleshed out and well performed to hit all the emotional and comedic cues. The fight scenes and stunts — especially a masterfully choreographed motorcycle chase throughout the stadium — and a lack of obvious CGI provide the requisite thrills.

The Hollywood Reporter

-

Bautista has the low-key charisma, natural appeal and formidable physicality necessary for an action star, and he makes Final Score worth watching (at home while eating pizza and drinking beer, preferably) despite its endlessly derivative elements.
Final Score (2018)
When a stadium is seized by a group of heavily armed criminals during a major sporting event, an ex-soldier must use all his military skills to save both the daughter of a fallen comrade and the huge crowd unaware of the danger.