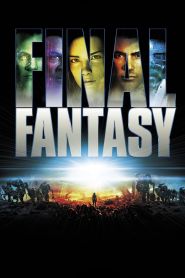 General Information
Glossary: F
Released Year: 2001
Runtime: 106 minutes
Genre: Action, Adventure, Animation, Fantasy, Sci-Fi, Thriller
Directors: Hironobu Sakaguchi, Motonori Sakakibara
Casts: Donald Sutherland, Keith David, Ving Rhames, Steve Buscemi, Alec Baldwin, James Woods, Ming-Na Wen, Peri Gilpin, Jean Simmons
IMDB: Final Fantasy The Spirits Within (2001)
Sponsored Links
Ratings
User Rating:
IMDB Rating:
6.4
Reviews
New Times (L.A.)

-

Spectacular entertainment.

Chicago Sun-Times

-

The story is nuts-and-bolts space opera, without the intelligence and daring of, say, Steven Spielberg's ''A.I.'' But the look of the film is revolutionary. Final Fantasy is a technical milestone, like the first talkies or 3-D movies.

Boston Globe

-

Despite its conceptual shortfall, is worth seeing, if only to update yourself on what can emerge from a keyboard these days.

Los Angeles Times

-

The film's plot gets so convoluted no nongamer older than 14 will be able to follow it all.

Seattle Post-Intelligencer

-

For all the grace of the animation and visual splendor, the stilted script and emotionless "performances" give this digital artifact a distinctly stiff, wooden flavor.
Final Fantasy The Spirits Within (2001)
Led by a strange dream, scientist Aki Ross struggles to collect the eight spirits in the hope of creating a force powerful enough to protect the planet. With the aid of the Deep Eyes Squadron and her mentor, Dr. Sid, Aki must save the Earth from its darkest hate and unleash the spirits within.