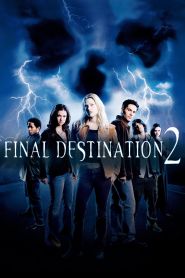 General Information
Glossary: F
Released Year: 2003
Runtime: 90 minutes
Genre: Horror, Thriller
Directors: David R. Ellis
Casts: Andrew Airlie, Chilton Crane, Tony Todd, Ali Larter, Marrett Green, A.J. Cook, Michael Landes, David Paetkau, James Kirk, Lynda Boyd, Keegan Connor Tracy, Jonathan Cherry, Terrence 'T.C.' Carson, Justina Machado, Sarah Carter, Alejandro Rae, Shaun Sipos, Christina Jastrzembska, Eileen Pedde, Jill Krop, Odessa Munroe, Noel Fisher, Benita Ha, Aaron Douglas, Eric Keenleyside, Enid-Raye Adams, Fred Henderson, Darcy Laurie, John R. Taylor, Alf Humphreys, Don Bell
IMDB: Final Destination 2 (2003)
Sponsored Links
Ratings
User Rating:
IMDB Rating:
6.2
Reviews
San Francisco Chronicle

-

Funnier than the original.

Los Angeles Times

-

The horror sequel is less philosophical than the original, but it's just as intelligent.

Washington Post

-

Can't wait for the next sequel . . .

Salon

-

Essentially dumb and sadistic, but it's not like that's something new for pop culture. What we've got here is a solid, grade-B genre sequel, not as scary as the original but a bit funnier, and with a nasty little sting in its tail.

Austin Chronicle

-

It's most definitely not for the squeamish nor the easily offended -- the death scenes in Final Destination 2, of which there are many, are immensely bloody and imaginative affairs, full of exploding limbs, squashed bodies, and graphic, gory ultra-violence.
Final Destination 2 (2003)
When Kimberly has a violent premonition of a highway pileup she blocks the freeway, keeping a few others meant to die, safe...Or are they? The survivors mysteriously start dying and it's up to Kimberly to stop it before she's next.