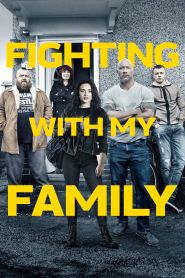 General Information
Glossary: F
Released Year: 2019
Runtime: 108 minutes
Genre: Comedy, Drama
Directors: Stephen Merchant
Writers: Stephen Merchant
Casts: Nick Frost, Lena Headey, Chloe Csengery, Dwayne Johnson, Vince Vaughn, Stephen Merchant, Julia Davis, James Burrows, Josh Myers, Paul Wight, John Cena, Aqueela Zoll, Zak Knight, Jack Lowden, Stephen Farrelly, Florence Pugh, Hannah Rae, Thomas Whilley, Tori Ellen Ross, Olivia Bernstone, Leah Harvey, Mohammad Amiri, Christine Ozanne, Grace Link, Hannah Dodd, Jack Gouldbourne, Elroy Powell, Ellie Gonsalves, Kim Matula, Roy Bevis, Brendon Burns, Ciaran Dowd, Thea Megan Trinidad, Rod Zapata, Chris Albright
IMDB: Fighting with My Family (2019)
Sponsored Links
Ratings
User Rating:
IMDB Rating:
7.4
Reviews
Screen International

-

The film benefits from Pugh's charismatic performance and writer-director Stephen Merchant's cheery mixture of crowd-pleasing sentiment, wry laughs and genuine sweetness.

Film Threat

-

It's a touching and funny tale about a family chasing their unconventional dreams in the world of sports entertainment. It has such a magnificent cast, and the story is interesting enough to entertain both wrestling fans and non-wrestling fans alike.

IGN

-

Fighting With My Family delivers on comedy, action, and a sweet message of acceptance and strength at its core. It might be a bit too wrestling-heavy for some, but the strong cast, interesting real life story, and a magnetic lead mean this black sheep sports story is a feel-good flick with chops that might finally put WWE Studios on the map.

TheWrap

-

Yes, it's a wrestling movie, but Fighting With My Family is also a delightful entry into a genre that has too few inspiring stories for young girls. It's a warm-hearted underdog saga with a feminist undertone and a celebration of everyone's inner misfit.

The Playlist

-

Overall, "Fighting" works thanks to Merchant's witty screenplay, Pugh's transformative performance, Vaughn's inspired off the cuff one-liners (likely improvised) and a cast that clearly respects the Bevis family story.
Fighting with My Family (2019)
Born into a tight-knit wrestling family, Paige and her brother Zak are ecstatic when they get the once-in-a-lifetime opportunity to try out for the WWE. But when only Paige earns a spot in the competitive training program, she must leave her loved ones behind and face this new cutthroat world alone. Paige's journey pushes her to dig deep and ultimately prove to the world that what makes her different is the very thing that can make her a star.