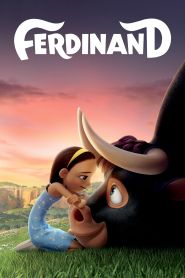 General Information
Glossary: F
Released Year: 2017
Runtime: 107 minutes
Genre: Adventure, Animation, Family, Fantasy
Directors: Carlos Saldanha
Writers: Ian Southwood
Casts: Boris Kodjoe, Anthony Anderson, Carlos Saldanha, Tim Nordquist, James Palumbo, Jason Fricchione, Cindy Slattery, Bobby Cannavale, Belita Moreno, Johnny Gidcomb, David Tennant, Bernardo de Paula, Julia Scarpa Saldanha, Jordi Caballero, Jeremy Sisto, Sally Phillips, Gabriel Iglesias, John Cena, Raúl Esparza, Kate McKinnon, Andre Robinson, Jack Gore, Gina Rodriguez, Carter Sand, Rafael Scarpa Saldanha, Jerrod Carmichael, Jet Jurgensmeyer, Luis Carlos de la Lombana, Flula Borg, Andrea Lareo, Daveed Diggs, Peyton Manning, Miguel Ángel Silvestre, Lily Day, Juanes, Colin H. Murphy, Nile Diaz, Karla Martínez, Richard Gould, Maria Peyramaure, Nazanin Homa, Andreas A. Esparza, Alvaro Mendoza, Carlos Reig-Plaza, Susana Ballesteros, Ana Patricia Gámez, Laura Bayonas, Susana G. Esteban, Adrian Gonzalez, Julian Zane
IMDB: Ferdinand (2017) - IMDB
Sponsored Links
Ratings
User Rating:
IMDB Rating:
6.7
Reviews
Variety

-

In what's been an underwhelming year for big-studio animation, it's the best of the bunch: sincere, likable, surprisingly funny, and overall true to its source material.

TheWrap

-

If you can get through the excess of characters, and the requisite butt jokes, car chase and tween pop songs, the film does keep both the physical and the verbal comedy coming at a steady pace.

Chicago Sun-Times

-

Along with charming animated visuals, spot-on voice talent and nicely paced direction, Ferdinand incorporates themes that are very relevant and much-needed for our time.

Movie Nation

-

The extraordinary third act arrives, and the movie finds its heart and its message.

The Seattle Times

-

The humor is broad and obvious (yes, Ferdinand winds up in a china shop, with predictable results), but there are a number of scenes that hit the mark.
Ferdinand (2017)
Ferdinand, a little bull, prefers sitting quietly under a cork tree just smelling the flowers versus jumping around, snorting, and butting heads with other bulls. As Ferdinand grows big and strong, his temperament remains mellow, but one day five men come to choose the "biggest, fastest, roughest bull" for the bullfights in Madrid and Ferdinand is mistakenly chosen. Based on the classic 1936 children's book by Munro Leaf.